Japan Goes Wild for Jamaican Dancehall Superstar Cham aka Baby Cham During Recent #Lawless Tour
by Jupiterian PR
(Worldwide)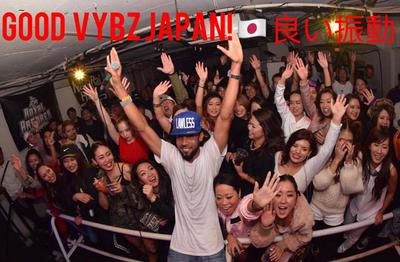 Sold-Out Shows Throughout Japan
Japan goes wild for Cham, a.k.a Baby Cham-


Many concerts SOLD-OUT on his recent LAWLESS Tour
Grammy-nominated Jamaican Dancehall Superstar Cham, a.k.a Baby Cham's #LawlessTour was warmly received by Dancehall lovers in Japan where many of the concerts during the two-week tour were Sold-Out, with fans anxiously awaiting his meet and greets. The enthusiastic Dancehall lovers all over Japan were thrilled to see the famous singer Live.
Cham was Fresh off the "Welcome to Jamrock Cruise" where he performed, in 2017 the LawlessTour has touched down in the US, Europe, Jamaica & Asia.
Cham's 2018 schedule is filling up with dates in the UK in May and many more to be added.
Cham LIVE in concert is not to be missed as he performs his beloved hits like "Ghetto Story" & "Vitamin S" along with hot tracks off his newest album- Lawless (June, 2017).
Throughout his decade-spanning career, Cham has collaborated with many Reggae, Dancehall, Hip-Hop and R&B artists such as Damian Marley, Bounty Killer, Mykal Rose, Alicia Keys, Akon, Foxy Brown, Carl Thomas, Shawn Mims, and T-Pain, and more.
Cham stays touring & recording and has new projects releasing soon.
For More Information:
https://www.facebook.com/TheChamOfficial/
Official "I Don't Care" Video (October 2017) https://www.youtube.com/watch?v=jggaGcHWMj4
Official "Hero" Video https://www.youtube.com/watch?v=A5DZxj4LtiQ
Website: http://chamworld.com/
Publicist: jupiterianmanagement@gmail.com