JAMATHON All-Star Benefit Concert Announces Venue Change & More Stars Added to Line-Up
by RBA Publishing
(Worldwide)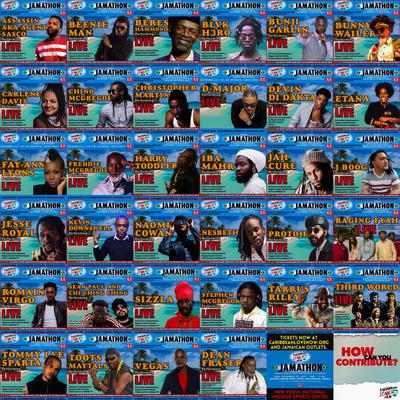 JAMATHON All-Star Line-Up
JAMATHON: ALL-STAR BENEFIT CONCERT ON WEDNESDAY, NOVEMBER 22, ANNOUNCES


VENUE CHANGE TO THE
NATIONAL INDOOR SPORTS CENTRE,
NEW KINGSTON
BERES HAMMOND & J-BOOG JUST ADDED
TO LINE-UP
Find out more info & updates on www.CaribbeanLoveNow.org
WEBSITE
New Venue
Jamathon has been moved to the National Indoor Sports Centre in Independence Park in New Kingston. The venue change is to avoid rain and any other inclement weather issues; provide a more controlled production; and offer fans a more intimate audience experience.
Jamathon
Exciting News
Beres Hammond and J Boog have just been added to this once-in-a-lifetime line-up!
"Beres Hammond is one the greatest performers of our time. He is a global superstar and the perfect addition to our epic line-up.
With Beres joining Caribbean Love Now JAMATHON, we are adding even more power and purpose to what is going to be the most important event for Jamaican music in decades," said Joe Bogdanovich founder of Caribbean Love Now.
He noted that the change in venue was only made possible with the support of the Hon Olivia Grange, Minister of Culture, Gender, Entertainment and Sport. "There is no doubt that Minister Grange has a very sharp instinct for kind of work we want to do with Caribbean Love Now and the impact this concert event can have globally. We appreciate her contribution in helping to make this happen," Mr Bogdanovich said.
This benefit concert, was organized to raise funds for hurricane recovery in the Caribbean. The artists are generously donating their time and talent to help the cause.
The concert is on Wednesday, November 22 from 7pm to 11pm (Jamaican time) and is produced by Caribbean Love Now.
International touring sensation from Hawaii, J Boog from Hawaii, has just been added to the line-up. He will be fresh off the Welcome to Jamrock Cruise and will come to Jamaican to support the cause.
Tickets available online at
www.CaribbeanLoveNow.org
Physical tickets will be available at Jamaican outlets in a few days.
"The line up can only be described as magical. There is never going to be another night where all these performers share the same stage. I am deeply grateful that not only have the artists answered the call but by doing so they prove that the Caribbean takes care our own," said Mr. Bogdanovich.
Reggae fans around the world who want to participate can enjoy the full concert Livestreamed on the Reggae Sumfest YouTube Channel plus it will be televised on Caribbean TV.
The confirmed list of performers are: Assassin; Beenie Man; Beres Hammond, Blvk H3ro; Bunji Garlin; Bunny Wailer; Carlene Davis; Chino McGregor; Christopher Martin; D-Major; Devin Di Dakta; Etana; Fay-Ann Lyons; Freddie McGregor; Harry Toddler; Iba Mahr; Jah Cure; J-Boog, Jesse Royal; Kevin Downswell, Naomi Cowan; Nesbeth; Protoje; Raging Fyah; Romain Virgo; Sean Paul and Chi-Ching Ching; Sizzla; Stephen McGregor; Tarrus Riley, Third World; Tommy Lee Sparta; Toots & The Maytals; and Vegas.
An All-Star Band led by Dean Fraser will back all performances and the show will be hosted Tommy Cowan, Miss Kitty, and Pretty Boy Floyd, and Nikki Z. Music also by Stone Love.
collage
The Caribbean Love Now organization is also collecting donated goods and sending them, and building materials, to affected islands; plus they are raising money for ongoing rebuilding efforts.
Follow:
Facebook.com/CaribbeanLoveNow
Twitter and Instagram: @caribbeanlovenow
Tickets to this once-in-a-lifetime lineup are now for sale online at www.CaribbeanLoveNow.org
About Caribbean Love Now
Caribbean Love Now is a hurricane-relief campaign that will support rebuilding programmes in islands affected by Hurricanes Irma and Maria. Founded by investor Joe Bogdanovich, the campaign will leverage the businesses and brands with which he is associated to rally donations on behalf of the people in islands impacted by the hurricanes.
Production by DownSound Entertainment
Each business and brand will participate in the relief effort in their own way. The campaign's launch partners are Reggae Sumfest, Downsound Records, Downsound Entertainment, FranJam, KLE, Usain Bolt's Tracks & Records, Hardware & Lumber, H&L Rapid True Value, H&L Agro, Parkland Industrial Co., Argyle Industries and the R Hotel.
Thank you for joining the mission, donating & spreading the word.
Make sure to LIKE the official Facebook Page
Follow @caribbeanlovenow on Instagram & Twitter
Take part by watching the LiveStream (and donating online)
on November 22
7pm - 11pm Jamaican Time
The full concert will be Livestreamed on
Reggae Sumfest Live Streaming & Video Channel