Jahnoia Christie is The 2014 International Dancehall Queen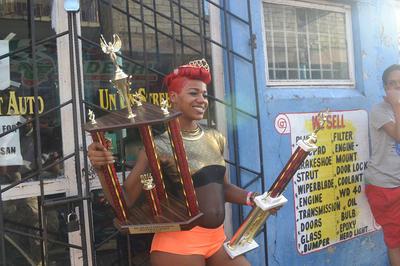 Dancehall Queen float parade on Handcart in Montego Bay History was created on Sunday Morning August 3,2014, when the newly crowned International Dancehall Queen Jahnoia Christie, chooses to float parade with her trophies on a handcart throughout the streets of Montego Bay.


She was accompanied by her sister the 2013 winner, Keja Christie and other family members and friends.The Jubilant entourage traveled from Pier One vie Harbour Street up Union Street.
Curious bystanders who were waiting on bus to go to work, took the chance of taking photographs of the early morning excitement.
Join in and write your own page! It's easy to do. How? Simply click here to return to Comments.