Reggae Group Israel Vibration Official Biography

Reggae group Israel Vibration was formed in Kingston, Jamaica in the late 1970s.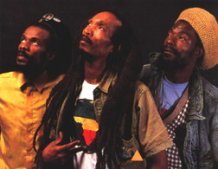 The original members are Lascelle "Wiss' Bulfin, Albert "Apple Gabriel" Craig and Cecil "Skelly' Spence. The Trio met as children at a rehabilitation center.
The group is considered to be one of the most successful roots reggae groups to be formed in the 1970s.
Their first album "The Same Song" was released in 1978, Funding for the album came in the form of a grant from the Twelve Tribes of Israel branch of Rastafari after Hugh Booth, a member of the Twelve Tribes, had overheard the three men singing in a wooded area outside Kingston. Apple and Wiss were living in the area, which they had converted into a home.
One of their biggest single is "Why Worry' which was released in 1977.
In 1988, Gary "Dr. Dread" Himmelfarb, founder of RAS Records, urged the trio to reunite and record an album. Skelly, Apple, and Wiss were flown to Washington, D.C. to record a new album at the Lion and Fox Recording Studios in College Park, Maryland. Strength of my Life was the group's fourth album.
The Trio together recorded fifteen (15) albums together these are:
The Same Song (1978)
Unconquered People (1979)
Why You So Craven (1981)
Strength of My Life (1988)
Praises (1990)
Dub Vibration: Israel Vibration in Dub (1990)
Forever (1991)
Vibes Alive (1992)
IV (1993)
I.V.D.U.B. (1994)
On the Rock (1995)
Dub the Rock (1995)
Israel Dub (1996)
Free to Move (1996)
Live Again! (1997)
In 1997 Apple Gabriel left the group to pursue a solo career. The remaining members Skelly and Wiss continue to record albums and tour the world as Israel Vibration, backed by longtime associates Roots Radics.
They has since released seven (7) albums, these are:
Pay the Piper (1999)
Jericho (2000)
Dub Combo (2001)
Fighting Soldiers (2003)
Live & Jammin (2003)
Stamina (2007)
Reggae Knights (2010)
Reggae Knights which was released in 2010 was also nominated as "Best Reggae Album for the 2010/2011 Grammy Awards.
Post Your comments/ views about this artiste below..
Post your views/comments on this artiste below also read what others have said about him/her.
Return home from Israel Vibration page
Articles On Dancehall Reggae World You Might Have Missed ......
Jun 19, 18 12:30 PM

Reggae Band Third - Third World is a Jamaican reggae band formed in 1973. Their sound is influenced by soul, funk and disco.

Jun 18, 18 10:47 PM

Foundation Reggae Festival - Since the year 2001 in which the first edition has been held, there have been numerous bands that have passed on its stage.

Jun 18, 18 09:27 PM

Marcia Griffiths collaborates with Chronixx and Sly and Robbie - Veteran singer Marcia Griffiths is hoping to score with her latest single Queen of Paradise.