Hollie Cook Tops Billboard Chart With Vessel of Love Album - Tropical Pop Reggae Dub artist Hollie Cook has scored another Billboard hit with her latest album 'Vessel Of Love'.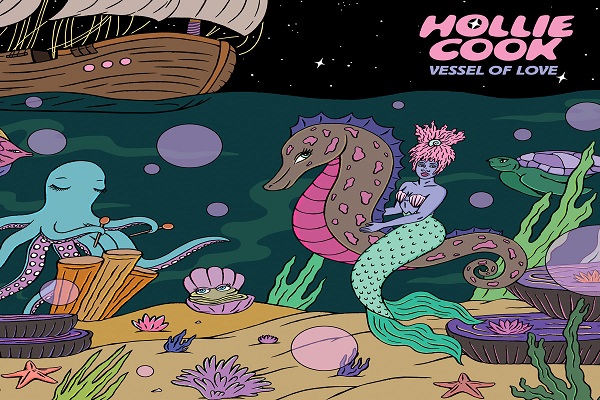 Vessel Of Love peaked at #1 on the Billboard Reggae Chart in the second week of February 2018.

Hollie Cook combines her unique vocal talent with charming charisma to craft her own dynamic strand of lovers rock with enduring tropical vibes, weaving a path from her West London roots to an arena of diverse collaborations, critically acclaimed records, and iconic live appearances around the world.

Cook's ability to continually surprise, delight, and progress solidifies her position as one of the most exciting voices in reggae, and this is crystal clear on her third full-length and Merge debut, Vessel of Love."

Hollie Cook Vessel Of Love Track-list
1. Angel Fire
2. Stay Alive
3. Survive
4. Ghostly Fading
5. Freefalling
6. Lunar Addiction
7. Turn It Around
8. Vessel of Love
9. Together
10. Far From Me

Hollie Cook (born 1987, West London, England) is a British singer and keyboardist.

She was a part of the last line-up of all-female punk/reggae band The Slits. From 2010, Cook has also had a career as a solo artist working with producer/songwriter Prince Fatty.

In 2011 she released her first and self-titled reggae album, Hollie Cook. She calls her own music "tropical pop", and has a passion for reggae and female rocksteady/reggae singers, such as Janet Kay and Phyllis Dillon, combined with classic 1960s girl groups.

Hollie Cook is the daughter of Sex Pistols drummer Paul Cook. Her mother Jeni was a backing singer for Culture Club and Boy George is her godfather.  She is of paternal English and maternal West Indian descent.

Hollie Cook joined the re-formed Slits and performed on the band's 2006 EP Revenge of the Killer Slits.

She went on to collaborate with Ian Brown and Jamie T and recorded her self-titled debut album in 2011 with Mike "Prince Fatty" Pelanconi, featuring George Dekker of The Pioneers and Dennis Bovell.

The BBC, reviewing the album described it as "one of the most enjoyable reggae albums of 2011 so far".

She went on to record a radio session for the BBC and appear on Later... with Jools Holland. De Telegraaf gave the album a four-star review.

In 2012, she was chosen as one of the support acts for The Stone Roses' reunion shows.

A dub remix version of her debut album was released in May 2012.

She also featured on the 2012 Q covers album of Amy Winehouse's Back To Black, Back To Back To Black, covering "You Know I'm No Good".

Her second album proper, Twice, was funded via PledgeMusic and was released in May 2014.
Her third album, Vessel of Love, was released in January 2018.