Reggae singer George Nooks

Reggae singer George Nooks also known as Prince Mohamed was born in 1958 in Kingston, Jamaica.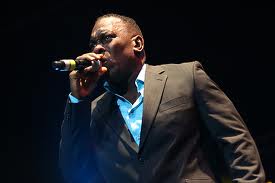 Before he started singing he used to deejay under the name of Prince Mohamed, his first five (5) albums he did was as a deejay.
These are:
* People Are You Ready (1978) Ballistic (with General Echo)
* African Roots (1979)
* No One Remember Africa (1979)
* Bubbling Techniques
* Inna Him Head (1980)
George started his musical career singing in the youth church choir, he later moved on to perform at school concerts and talent shows.
Performing as George knooks he has since 1981 he has now released over sixteen (16) studio albums. His latest album was released in 2008 titled Diamond Series.
He has and still perform three different genres of music these are Reggae, Lovers Rock and Gospel.
He is well known for song such as God Is Standing By, Perfect World, We're In This Love Together, How Great Thou Art, Turn Me On, Love Lifted Me, No Power On Earth, it's magic,Education Is The Key, Lean on Me, Hero among many others.
He is not only a singer-songwriter, In the early 1990s he take on the title as a producer after forming his own record label call Total Records.
Most reggae music lovers said that his voice sound just like the crown prince of reggae Dennis Brown.
Because of this George pay tribute to Dennis Brown by doing a double album of Brown covers, this was released in 2006.
Nooks has to his credit three Tamika Reggae Music awards which he won in 1997 these were for Crossover Artiste of the year, Outstanding Male artiste and Voalist of the Year.
Post Your comments/ views about this artiste below..
Post your views/comments on this artiste below also read what others have said about him/her.
Below you will see the contributions from other visitors like you.
Click below to see contributions from other visitors to this page...


George Nooks Trial Begins Today November 6, 2017. Not rated yet
GEORGE Nooks is slated to appear in the Kingston and St Andrew Parish Court in Half-Way-Tree today December 6th, 2017. The popular singer, who was charged …

George Nooks - Here I Am - Tads Record Inc Not rated yet
Taken from the new Reggae Gospel Album release' Ride Out your Storm' by recording artist George Nooks. The official release date for this album is June …
Return home from George Nooks page
Articles On Dancehall Reggae World You Might Have Missed ......
Jun 23, 18 07:25 PM

Bluugo Magnum King Robbed at Gunpoint - The 2018 Magnum Kings and Queens of Dancehall competition winner, Bluugo, said he is grateful to be alive after he and a member of his team were robbed at gunpo…

Jun 23, 18 03:36 PM

Reggae Gospel Music - What is Reggae Gospel Music one might be asked? Like dancehall Music, this form of Reggae music originated in the mid-1990s.

Jun 23, 18 01:52 PM

Bucky Jo - Champion Buzwakk Records