Dean Fraser - Your Love Got a Hold Of Me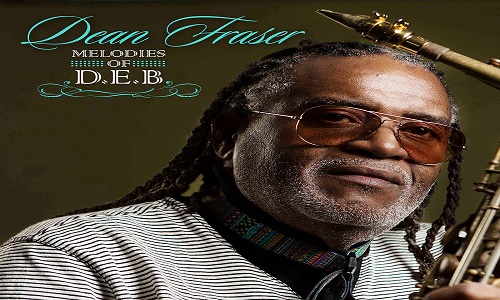 Dean Fraser - Your Love Got a Hold Of Me - Melodies of D.E.B - Tad`s Recod - Download Now
listing
1. Sitting and Watching
2. Have You Ever
3. Hold On To What You've Got
4. Cassandra
5. Your Love Got A Hold On Me
6. Funny Feeling
7. Should I
8. Money In My Pocket
9. Wolf and Leopards
10. If I Follow My Heart
11. How Could I Leave
12. Baby Don't Do It
13. No Man Is An Island
14. Ghetto Girl
15. West Bound Train
This album is available on Itunes courtesy of Tad's Records.

Sax player Dean Fraser has been tearing up horn sections on innumerable reggae singles, working with some of Jamaica's legends, including Bob Marley and the Wailers, since 1978.
He is considered one of Jamaica's finest brass players and has developed an international following for his sultry jazz-toned reggae music. He was born Dean Ivanhoe Fraser in Kingston and began playing the clarinet at the National Volunteers' Youth Organization community club at age 12. At age 15, his teacher, Babe O'Brian, taught him the saxophone. Fraser formed his first band, the Sonny Bradshaw 7, around 1978.
It was rising reggae star Jacob Miller who helped Fraser become popular. At the time, Miller would occasionally jam with Fraser and band while they were performing at the Sheraton. He took a liking to Fraser's song "Take Five," and so took the young sax player to the studio. Fraser had recorded an earlier single, "Blue Moon."
Unfortunately, a labeling mistake on the "Take Five" single named the talented new artist Jah Devon instead of Dean Fraser. That problem was rectified on all his subsequent work. In the mid '90s, he released Dean Plays Bob and Dean Plays Bob, Volume II as a tribute to the music of his long-time idol Bob Marley. ~ Sandra Brennan