D'Angel and Beenie-man back together Again?
by DRW
(Jamaica)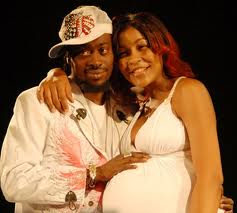 Beanie-man and D'angel
Is D'Angel and Beenie-man back together Again?


The two has being making public appearances together in recent times. They were recently spotted together hugging and walking very close at the premiere of "The Expendables" at the Carib theater in Kingston, Jamaica.
At the 2010 Reggae Sumfest in Montego Bay, Jamaica. During his set Beanie Man called his wife (D'Angel) on stage.
Together they then perform their latest single "You Are My First".
The song is about the issues which led to the separation between them in 2007.
In an interview with the Jamaican Star Newspaper, D'Angel said "Being with Moses in public, I am not doing it for recognition or hype.
I am not looking for success or fame as a result of this. If every artiste a call peace now, why can't we?.
I have forgiven him (Beenie-man) for what transpired between us. Cause, If god has forgiven us for our sins, who am I not to forgive him". I am stronger now and very focused".
When she was asked about their personal life she said, "I rather not comment". "Me and Moses as husband and wife is something that we have to work on outside of the Media". She added.
But at Beenie-man's birthday party they were seen sharing cakes together (Bird Feeding Sytle). In my opinion that said it all.
They said that they are back together again.