Dancehall artiste Spice confirms break-up from fiancée following picture controversy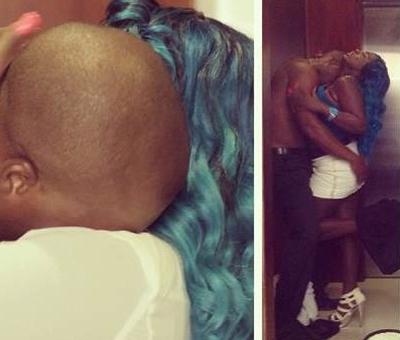 Acclaimed Dancehall artist, Spice has ended her long-time relationship with fiancé, Nicholas Lall following a very public argument over pictures that surfaced from a photo shoot of Spice's upcoming video for So Mi Like It, according to reports Thursday.


The pictures, which were allegedly taken from Spice's phone and posted on Instagram by Lall on Monday, caused an uproar on the social media website as they showed Spice and another man hugging intimately. A seemingly angry Lall later made a Facebook post about his feelings on the pictures, saying "I have taken a lot of s*** where your music is concern but this is Too f***ng far now. I wasn't even inform about this scene and now you claim it's "So mi like it video"????? KMFT Grace. Like seriously Grace????? Y did I have to find these??? KMFT. You claim it's from "So mi like it video but dis look bloodc***t serious #kmft."
Spice later retaliated by reposting the pictures (which you can see here) on her Facebook and Instagram sites and lashed out against Lall, "@NicholasLall Since as the pics bun you so much that you Decide to post on your IG and FB pages Let me Help you KMFT. @NicholasLall how dare you take pics from my phone and post them up knowing there pics from my" So mi like it" Video????" she said. "Like seriously then you say you are a MAN? What's in these pics to be so mad about? The worst thing about it is that we live together, so if you don't like sum ting you Talk to me and don't broadcast mi bloodc***t business. Hope you know now that #ITSOVER."
In an interview published in the Jamaica STAR Thursday, Spice confirmed that she and Lall, the father of her two children, are no longer together, but would not rule out a reconciliation.
"Mi nuh know if we will get back together, but for now, it's over," she told the newspaper. Mi still inna shock and mi still disappointed. Mi neva think that necessary 'cause him know seh a mi work mi a do…After work, mi go back to Grace Hamilton. Him know him nuh have nutten fi worry bout. Mi nah cheat pon him and I am a very loyal person, so mi nuh know weh him a get jealous fa."
The official video for So Mi Like It will premiere on CVM's OnStage this Saturday.
"Reggae its exotic and has cool vibes that expresses truth and real life stuff" - Ket Leash

Not what you are looking for? Search the web for more Dancehall Reggae music information below...
Stay up-to-date with all that's new at dancehallreggaeworld.com, Click Here to subscribe for my updates and don't miss a thing!
Also connect with Dancehallreggaeworld.com on Social Media:

 
Facebook | Twitter | Instagram | Youtube
Thank You!