D-Medz' "Muta Boot" out today September 7, 2017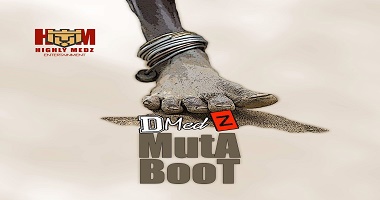 "Muta Boot" is the Reggae Peace Ambassador's first single since his departure from Joseph Moore's EPP Jam Records in recent months.
 The "Nuh Falla Bad Company" singer has also corroborated that he has since formed his own production company, Highly Medz Entertainment.

Released on his Highly Medz Entertainment label, "Muta Boot is a thought provoking piece". The title, inspired by dub poet and talk show host Mutabaruka, symbolises truth. D-Medz believes that the practice of not wearing shoes, as practiced by Mutabaruka, allows one to truly feel the energies from the earth.

"Muta Boot". is another one of D-Medz' hard-hitting melodies. On the track, the Reggae Peace Ambassador is candid and calls out politicians, high society people, disc jockeys who take payola and murderers who are playing a role in degrading Jamaica's culture or causing too much violence.

"After "Muta Boot", fans can expect to see even more D-Medz productions and productions from my artistes. But it won't be all about putting out music. A lot of the work will be about sharing the message of peace. Jamaica ah get wicked and I refuse to sit down and watch things fall apart. I am playing my part. We'll be doing other things in addition to the school tours I have done in the past," says Adams. 
"Muta Boot" will be available on all major digital music outlets in September.
Return to Homepage from D Medz Muta Boot page