Cindy Breakspeare Contribution to Reggae Music

Cynthia Jean Cameron Breakspeare (born October 24, 1954) — known as Cindy Breakspeare — is a Canadian-Jamaican jazz musician and former model.
She was crowned Miss World 1976. She is the mother of Grammy-winning reggae musician Damian Marley,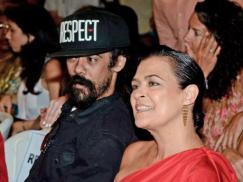 Cindy & Damian Marley credit Jamaican gleaner
through her relationship with reggae legend Bob Marley, who remained married to Rita Marley until his death. Bob is said to have written the songs "Waiting in Vain", "She Used To Call Me Dada" and "Turn Your Lights Down Low" about her and their love.
Breakspeare had an infamous relationship with the legendary reggae musician Bob Marley. From their relationship she gave birth to a son, Damian Marley (aka Jr. Gong), in 1978.
However, 3 years later she married senator and attorney Tom Tavares-Finson in 1981 with whom she has a son Christian (1982) and a daughter Leah (1986). Breakspeare and Tavares-Finson divorced in 1995.
Pages Related to Cindy Breakspeare
Return to Homepage from Cindy Breakspeare Contribution to Reggae