Charly Black - Turn Suh ft. JoJo - Multi-Talented Music - International Diamond Certified Dancehall Star Charly Black Introduces JoJo on "Turn Suh" Single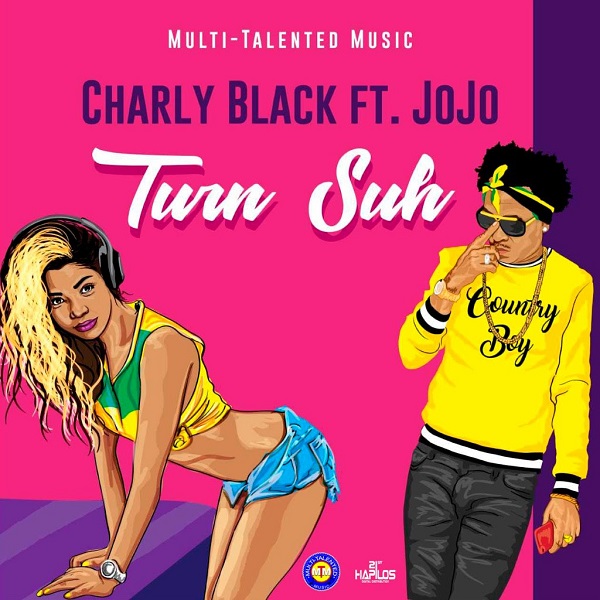 Among many of his impressive accolades such as Diamond selling recording artist, ASCAP honoree and topping billboard, the multi-talented dancehall artist Charly Black, has released a number of sizzling singles under his imprint label Multi-Talented Music.

The latest hit bound track "Turn Suh" features JoJo. The Team Unstoppable young recording artist was recently signed to Charly's Multi-Talented Music. Since the song's release, has been blazing Jamaica's street parties and nightclubs, while gathering steam on the various airwaves.
Speaking on this collaboration with the young budding star, Charly explained "There is something special about a dancehall track with man and woman. I think it makes everyone relate and enjoy themselves on different levels. I put this song together highlighting my new artist JoJo, I want to put her out there and showcase her beautiful voice and talent. She has many other songs coming out, but I am introducing her to the world with this song. Turn Suh is fun, sexy and will make you dance. It's out now and all over the world we are getting great feedback. Big up everybody playing the song in Jamaica and around the world.Just know that Charly Black is one of those artist that's not going to go away, so don't ever feel like i went good last year and nothing this year. You're always going to get good quality music, and thanks to 21st Hapilos that distribute the song and helping with promotion"

Busy currently touring the world and bringing dancehall to the international forefront. Charly Black recently stated to the Jamaica Gleaner, "You have to remember that hip hop came from dancehall, reggaeton and afro beats came from dancehall, so naturally, people ago love it. Our genre is important and people appreciate when they get a good song. Nuff a di song dem coming out of Jamaica can't really pass the airport, so when people get a good song, dem grateful. When they gravitate to a song, it's over. It nuh matter a which artiste it a come from, whether Jamaica or not. People love good music innu. Look at Rebel Salute wah day, people came out from all over the world to come and enjoy themselves."

Distributed by digital giants 21st Hapilos Digital, Charly Black feat JoJo "Turn Suh" is available on all major digital outlets such as Amazon, iTunes, Deezer, GooglePlay, Spotify. smarturl.it/charlyblackturnsuh
Please send us your Feedback, News, Photos, Press Releases, Music and/or Videos to our WhatsApp Number: 1-876-395-8008 or Email: info@dancehallreggaeworld.com


"Reggae its exotic and has cool vibes that expresses truth and real life stuff" - Ket Leash

Not what you are looking for? Search the web for more Dancehall Reggae music information below...
Stay up-to-date with all that's new at dancehallreggaeworld.com, Click Here to subscribe for my updates and don't miss a thing!
Also connect with Dancehallreggaeworld.com on Social Media:

 
Facebook | Twitter | Instagram | Youtube
Thank You!