Years of advocacy has finally paid off for dancer and choreographer Maria Hitchins. Her dream of an accredited dancehall course being offered at a tertiary institution in Jamaica has been realized.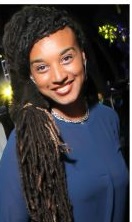 The course titled 'Jamaican Popular Street Dance Culture in the New Millennium' was added to the Edna Manley College for the Visual & Performing Arts, School of Dance curriculum in January.

"For several years I've been pretty much bugging the Edna Manley School of Dance about why it is that they do not have dancehall as part of any accredited course. Everything is a process in Jamaica, and I accept and respect that, and now, I can safely say that we have that course," she stated.

Hitchins added that she had also proposed a theoretical dancehall course to the institution, which she hopes will also be implemented in the upcoming school year.

"The course entails going back to basics, the foundation of dancing, especially when it really got popular. We're going to be touching on dance moves from the 1980s up until now - the new millennium."

What is of unique interest is that the culture's actual dance creators will be invited to showcase, teach and generally interact with the students giving them an authentic experience with the movers & shakers of the island's vibrant Dancehall dance culture. Dancers, including Mad Michelle, Queen Lateisha, Elite team and Ova Marz, etc.

Intended course outline outcomes include being able to "pinpoint global influences from external dance cultures that have reshaped the Jamaican popular street dance culture, including hip-hop stunts; detect socio-cultural changes with the Jamaican popular street dance culture's choreography, including performance themes; and recognize Jamaican popular street dance steps that appear in international choreographiess," among others.

Cost is always a factor for students especially in an unstable economy and as such Hitchins along with the college is working towards implementing short courses that would also make it flexible for persons who may also be prohibited by time. "Not everybody will have a whole semester to come and sit down in a dance studio. Money is one factor, but so is time, and we are working on that."
Please send us your Feedback, News, Photos, Press Releases, Music and/or Videos to our WhatsApp Number: 1-876-395-8008 or Email: info@dancehallreggaeworld.com


"Reggae its exotic and has cool vibes that expresses truth and real life stuff" - Ket Leash

Not what you are looking for? Search the web for more Dancehall Reggae music information below...
Stay up-to-date with all that's new at dancehallreggaeworld.com, Click Here to subscribe for my updates and don't miss a thing!
Also connect with Dancehallreggaeworld.com on Social Media:

 
Facebook | Twitter | Instagram | Youtube
Thank You!