Bounty Killa Diss Foota Hype On IG. For Using His Name (Must Read)
Did Foota Hype used Bounty Killer's name in trying to land a role in 50cent's TV series 'Power'.


Well base on a screen shot that was sent to us here at www.dancehallreggaeworld.com it seems so.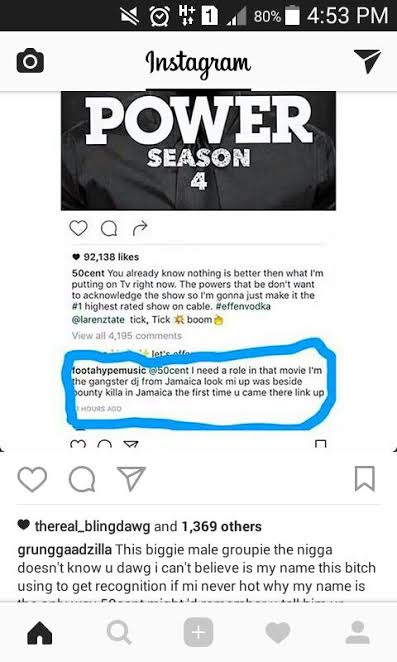 Its alleged that Foota wrote [
@50cent I need a role in that movie. I'm the gangster dj from Jamaica look mi up was beside Bounty Killa in Jamaica the first time u come there link up.
This have not gone down well with Bounty Killa. Bounty Wrote on his IG PAGE:
This Biggie Male Groupie the nigga doesnt know u dawg i can't believe is my name this bitch using to get recognition if me never hot why my name is the only way 50cent might'd remember u tell him ur name the groupie guy
But Killa rant did not end there :
This FAGGOT WHO MI BRING PON PRIVATE JET TO 747 BOEING ALL OVER THE WORLD HIM SWEAR THAT HE ISN'T PLAYING MY SONGS ANYMORE BUT HE IS USING MY NAME TO GET RECOGNITION WHAT THAT ADDED UP TO FAKE OR FUNNY???
Will Foota Hype respond to Bounty Killer comments?. We'll keep you posted.