Bottles Rained at the 2012 International Dancehall Queen Competiton as Portmore dancer "Sher Rumbaar" was declared the Winner
by DRW
(Jamaica)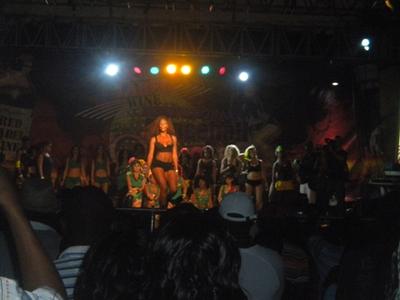 2012 Dancehall Queen Picture
The 16th staging of the International Red Label Dancehall Queen, which was held on July 28th, 2012 ended before the queen was crowned


as patrons rained bottles on the stage at Pier One, Montego Bay, Jamaica.
Sending Patrons and promoters running for cover, due to their disapproval of who was crowned as this year's (2012) winner.
This year's staging saw dancers from Italy, France, Sweden, Jamaica, Venezuela, USA, Canada, Poland, Spain, Austria, Japan and other European countries.
We (dancehallreggaeworld.com) entered the venue (Pier One) at approximately 12:00 midnight, at that point the dancers were introducing themselves to a packed Pier One venue.
There were thirty-four contestant in this competition. In the first round all dancers represent and showed off their hottest
dance moves, because only twenty would make it thru to the second round.
From as early as round one a dancer who goes by the name "Tall Up" stand out as the crowd favorite base on her dance moves and use of the stage.
After the second round was completed the group was narrowed down to ten contestants, at this point dancers Tall Up from Montego Bay, Jamaica and Bumpa from Japan was leading judging by the responses they got from the large crowd inside of Pier One.
All hell broke loose after the group was cut down to top five, Two Jamaica dancers, one Swedish and two Japaneses. When the emcee for the night Jerry D announced that "Bumpa" was the third place winner, you could heard patron starting to voice their disappointment about the decision as most of them was saying that she was to be the second place winner and "Tall Up" as the Queen.
Patrons started raining bottles on the stage after the second Japanese dancer who was also in the top five was placed second and the dancer from Portmore, Jamaica "Sher Rumbaar" declared as the winner of the 2012 International Red Label Wine Dancehall Queen.
Base on the crowd response from where we were standing "Tall Up" and "Bumpa" should have been 1st and 2nd places respectively.
After the police officers were called in along with other security officers, calm was restored and "Sher Rumbaar" was given her crown and prize money in front of an almost empty Pier One.