Anthony Seeker Promotes "When She Calls"

Canadian-based recording artiste Anthony Seeker is quite the phenomenal act. In his latest promotional effort, EDM meets reggae as Seeker combines the two genres for the explosive hit single "When She Calls."
The track is catchy and boasts instantly infectious hooks, and talks about a girl he meets unexpectedly. Released October 2016, "When She Calls" was produced by Grab Them Records and Anthony Seeker.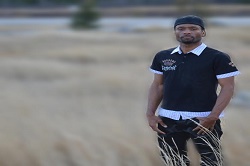 The musical wonder is currently on the island promoting this new song with the intention of creating some buzz on the local scene.

A vibrant Anthony Seeker says "The feedback has been amazing so far! Everyone that hears this song really enjoy it. It's been playing all over but of course I want to give it that extra push in Jamaica. This song is already bigger than I thought, and I can see it getting bigger and bigger every day.  The potential of this song is limitless."

While on the island he will be shooting the music video for this song, "When She Calls" and also for another fan favourite, "Fantasy." The visuals will be provided by Mamaz Boiz Film and will be shot in various places to include Big Yard Studio and different areas in Portmore.

The emerging artiste has a unique sound and powerful voice; no doubt this will make a lasting impression on his growing fan base. Anthony Seeker will continue to push musical boundaries fusing different genres, ultimately making a name for himself in the music business.

So what's next for this talented powerhouse you might ask? Currently he is working on a project alongside Mr. Easy and a few other artistes in Switzerland, Africa, USA and Canada for the summer.

Return to Dancehall and Reggae Music Homepage from here