Stay up-to-date with all that's new at Dancehallreggaeworld, Click Here to subscribe for my updates and don't miss a thing!  

Eleventh Annual Best Of the Best Ends With A Bang

Eleventh Annual Best of The Best Ends With A Bang - New York May 31, 2017.  Despite the sweltering heat patrons came out in droves to experience the 11th annual staging of Best of the Best.
With a solid line up of some of dancehall and reggae most sought after artists, it was established from early that this was going to be a show to remember.
The show commenced at 2:30 pm, you could see people visiting the stalls and venturing throughout the park while groving to the performane onstage. The first act to receive a good response from the crowd was Alandon from Hartford Connecticut, who started his set with an accapella performance.
Some other artists who did well were Wendy and Dyson Knight from Barbados, Zeke Don, Malica Music and Di Artist Redd.  At about 5:30pm Ruff Kutt band was up on stage and ready to take us on the musical journey for the next six hours.
Veteran artists Josey Wales and Brigadier Jerry kicked off the journey, giving fans a flash back from the past with songs like 'Gate Man' and 'Jamaica Jamaica'. Immediately after there was non stop performances from Skinny Fabulous, Lyrikal and Patrice Roberts out of Trinidad.
Mad Cobra performed hits after hits during his performance which gave the fans an opportunity to forget just how hot it was out in that sun. Then it was time for the new youths in the business Masicka and Jahmiel. Both artists came to deliver, yet Jahmiel left many surprised at his powerful and high energy performance from beginning to end.
Up next was Christopher Martin, who gave a premiere performance. Opening his set with Paper Loving, Christopher Martin immediately captured the attention of the several thousands in the park. He continued to sing his hits like 'Big Deal', 'Take My Love' and 'Mama'.
Yet, his performance of his single 'Magic' got the women screaming as he serenaded the ladies, followed by Cheaters Prayer, which the crowd demanded an encore performance. Next up was Konshens, who was one of the crowds favorite. From beginning to end Konshens had the crowd singing and demanding more.
Konshens did not leave without a powerful message for the reggae and dancehall fraternity and that was "when one youth rise another don't haffi fall" and then he performed his single "Keep Badmind outta you heart".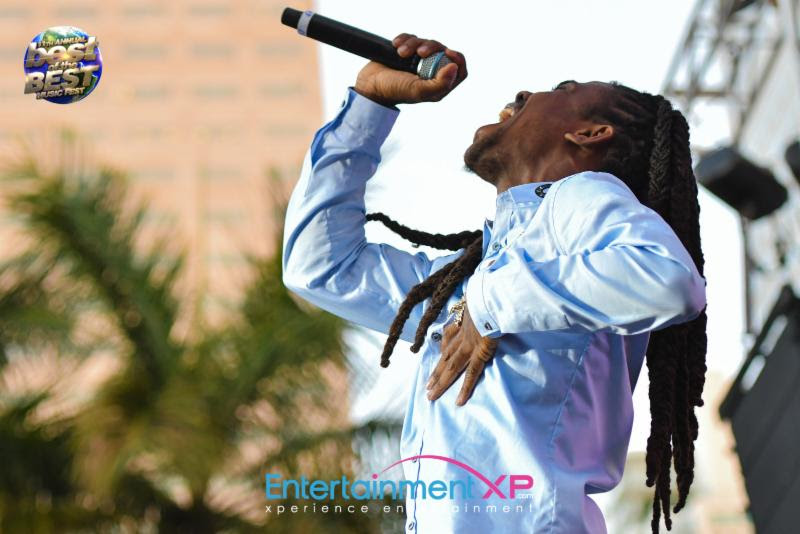 Now it was time for the 'Queen of the Stage' Spice  who made sure she left the crowd with a memorable performance. Opening her set paying homage to several artists in dancehall and reggae Spice immediately grabbed the attention of the audience.
Singing her hits like 'Romping Shop', 'So Mi Like It', and 'Needle Eye' Spice also made sure to introduce her dancers and her sheet. Spice interacted with the audience as she called two men up to see who could 'perform' best and the crowd erupted during this competition.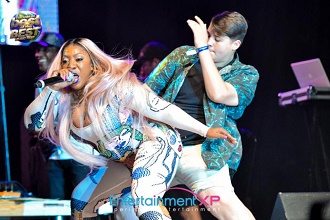 Next up was Hot Rass aka I-Octane who came out to a loud reception from the crowd as he immediately decided to get closer with his fans. I-Octane came off stage and then went to have a more intimate setting performance with his several thousand fans, receiving a good response from the crowd for songs like 'Mama You Alone' and 'Study Yuh Friend Dem'.
With no time to waste up next was Aidonia, who performed his slew of songs and his current single "Banga Banga Banga, which received great response from the crowd. Now it was time for Dexta Daps.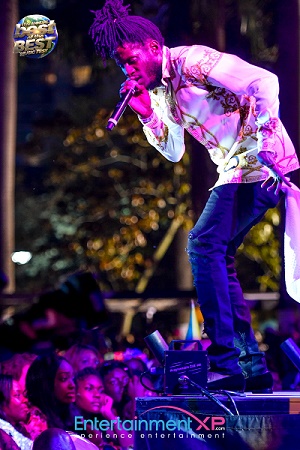 Prior too Dexta Daps performance, US Champions Platinum Kids were on stage entertaining the crowd as production waited for Dexta Daps to arrive in the park.  Ruff Kutt still on stage as Dexta Daps would be their final backing artist for the night because Mavado had his own band, promoters chose not to break down the Ruff Kutt band until Dexta Daps performed.
"Unfortunately, earlier in the day Dexta Daps team was informed, by Best of the Best production team, that he needs to be on stage at 10:50 pm and they agreed. Upon pick up time at the hotel, our production team was then informed there are a few additional stipulations to be taken care of before Dexta Daps leaves the hotel to come and perform as contracted.
The stipulations given at minutes after eleven pm, were; they would like to be paid at the hotel, not upon arrival at venue, they need 10 more backstage passes and they would like to be reimbursed for a 1000.00 travel expense incurred by his team during a previous booking for our Love and Harmony Cruise in March 2017. At this time we are wrapping up a smoothly ran production but now time is against us. So we agree to all of the artists demands, just to be told the manager will come to the park, pick up the money then go and get the artist, more time wasted.
The artist finally arrives to the park, Platinum Kids DJs playing for 26 minutes now well into Dexta Daps original performance time and we are told the artist needs a trailer to get dressed. Now we put oh Foota Hype for a few more minutes as the artist gets dressed in his trailer to perform. All of these last minute requests and defiant behaviors is what caused time to run against us and resulted in Mavado, who arrived before Dexta Daps to the venue, not perform" says Steven 'Jabba' Beckford.

Dexta Daps enters the stage to a loud roar and the ladies loved his performance. Daps performed his singles like '7Eleven', Mi C Mi Bed and Miss You',  'Shabba Madda Pot' and 'Di Owna'. At this time Ruff Kutt quickly exits stage and Mavado band sets up. Side stage is Mavado ready to enter the stage just to hear the Mimi Police Department to say, this is now shut down, no more performances.

"On behalf of the entire Best of the Best team, we apologize for what took place it hurts to know that everything was moving so smoothly and thousands of people who travelled from all over the world came and did not see the entire show they paid for. We will not let this stop what we have built after 11 years, but what we do promise is to correct the errors on our part and move forward. We look forward to seeing you at Best of the Best 2018" says team Best of the Best.
Return to Homepage from Eleventh Annual Best Of Best Ends With A Bang

Want to learn more about Reggae Music? check these pages below...
New! Talk to me
Was the information helpful? Something needs changing? I welcome your feedback here.

Great Articles You Might Have Missed
Please send us your Feedback, News, Photos, Press Releases, Music and/or Videos to our WhatsApp Number: 1-876-395-8008 or Email: necoflex@gmail.com


Not what you are looking for? Search the web for more Dancehall Reggae music information below...
Researched Information pages