Andrew Bees signs deal with Mightyful13 Records

Mightyful13 Records recently signed international reggae artiste Andrew Bees to its label, announced executive producer Fitzroy Francis.
Both Francis and Andrew agreed terms last week with the latter inking his signature a couple days after.
The New York-based record company will now distribute the singer's singles and his upcoming solo album. All the tracks will be distributed through VPAL which had signed a deal with Mightyful13 Records earlier this year.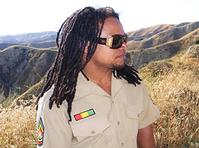 Under the deal, Mightyful13 Records will release a track on its Essence of Life rhythm. He will also do a tribute to veteran reggae artiste Delroy Wilson for the singles Cool Operator and Better Must Come, which will feature Wilson's daughter Shana. Both songs will be produced by the same label.

This won't be the first time that both men have worked together. It was Francis who had produced his first released single Things A Go Down in 1991 on the Music Lion Records label, and the singer's breakthrough album 'Militant'. More recently, he voiced Something's Strange on the label's Mighty In Battle rhythm.
Francis, a Jamaican now residing in the States (US), expressed delight at the signing citing it as a major step forward for the record label on the international market.
"I am very optimistic because this gives the label an opportunity to produce even more quality music to the world. Andrew is one of the international successes in today's generation," Francis said.
Something's Strange has enjoyed plenty successes on several reggae charts in the US and UK.
Share your views/ comment on this Artiste!
Do you have a great story about him/her? Share it!
What Other Visitors Have Said about this artiste..see below
Click below to see contributions from other visitors to this page about this artiste...

Andrew Bees 'Better Must Come' climbing charts Not rated yet
More than 40 years after the release of Delroy Wilson's revered reggae song 'Better Must Come', singer Andrew Bees has, for the fourth week running, enjoyed …