DizTroy Alongside Versi To Release Video For Ganja Inspired Athem
Custom Search
Innovative Duo DizTroy Alongside Versi To Release Video For Ganja Inspired Amthem "Build Me A Spliff"
DizTroy released their electronic, hip-hop, vibed record, "Build Me A Spliff", in November of last year.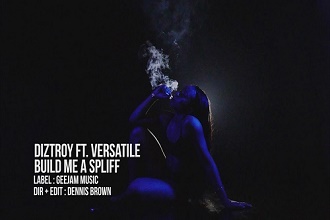 The song features Jamaica's multifaceted dancehall artist Versi. Since its release, it quickly accumulated the attention of several hip hop music blogs and has been attracting fans from the niche market of Cannabis culture. With its growing success DizTroy excitedly gathered the team to shoot the single's video.
More about DizTroy
Music may run in the blood, but in this case it's rooted in the soul. Made up of Troy Baker, and Dale "Dizzle" Virgo, DizTroy is a production group that is born and bred in Jamaica, and infused with British, and American musical influences. Signed to recently re-vamped Gee Street Records, Geejam Music introduces the UK-based producer Troy, and Jamaican sound specialist Dizzle.
The dynamic duo have created songs that are rooted in Jamaican sound system culture, and accented by various sub genres including: hip-hop, EDM, and Brit pop, placing them at the forefront of the emerging electronic music scene. They bring ample amounts of attitude alongside an stimulating mash-up of music that is as creatively exciting as it is it technically complex.
Late last year DizTroy released the debut single "Mystic Strings" ft. Mystic Davis. Featured on Pitchfork, in a review they stated; "The song, along with Mystic herself, is a dash hip-hop, with bits of reggae, dancehall, and (as one might say in Jamaica) a tups of house music….Mystic Strings: offers a necessary jolt of sunshine." Since the Jamaican based production duo have been cooking up new sounds while collaborating with some of Urban music's top acts. The two are working tirelessly, focusing on the upliftment of Dancehall culture, and building a platform for Jamaican artists to grow within the mainstream market.
Return to Dancehall and Reggae Music Homepage from here

Articles You Might Have Missed ......
Dancehall and Reggae Music Articles
Dancehall Reggae World's Favorites
Custom Search