Darkcide International Sound System
Custom Search
DARKCIDE INTERNATIONAL one of the most sort after and booked sound systems out of Jamaica presently boast a roster of five DJs namely Cide, Spawn, Calico, Acid & Sosick.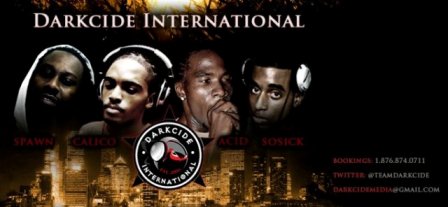 While managerial and public relations affairs are handled by company Director Shadow.
Traversing the thoroughfares of Jamaica one gets bombarded by a plethora of advertisement via various medium (radio , television, clubs, parties and the streets. A large percentage bearing the name and logo of DARKCIDE, Which within itself bears testament to the growing popularity of one of Uptown's finest sound systems.
The sound system though still spawning through its infantry stages is steadily carving out a niche as it aims to etch its name in the scribes of dancehall amongst the heavyweights. The sound system which is the brainchild of Shadow and Cide was founded on May 25th 2006 and ever since has been growing in strength.
Making an entry into the industry with a name such as DARKCIDE was sure to raise a few eyebrows and indeed it did. However it was the talent of the turntable maestros that spoke volumes and soon the sound system had a large following from Corporate Jamaica, the ardent uncompromising dancehall artistes to the avid party-goers.
Darkcide's fast rise to stardom could be attributed to the versatility and broad appeal of its disc jocks who are not only all Academians, but true musical connoisseurs as on any given day they can be seen moving a large gathering from the Garrisons of downtown Kingston, the posh landscapes of Upper St. Andrew or even the beaches of Negril with the latest offering or some true old school classics.

Are you a Sound System owner or Selector?
Send in you're sound Name and contacted information and we will update it on this page.
See information about other sound below..
Click below to see contributions from other visitors to this page...

Return home from Darkcide international sound system page
Articles You Might Have Missed ......
Dancehall and Reggae Music Articles
Dancehall Reggae World's Favorites
Custom Search