Dancehall artists D'Angel, Sizzla speak out against STING ban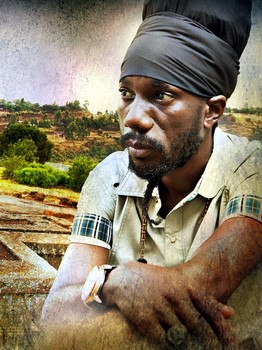 Two days following the announcement that Reggae/Dancehall artists, Sizzla and D'Angel were banned from future editions of STING following their controversial performances at the show's 30th anniversary, both are crying foul following their punishments.


Isaiah Laing, the show's lead organizer, announced Tuesday that Sizzla was banned from the show for promoting 'hate music' during his performance, in which he repeatedly hit out against homosexuality. D'Angel, meanwhile, was banned for at least five years as a patron following her impromptu clash with Ninja Man at the Dec. 26 show, which saw her spread her legs and gyrate while wearing a short dress during her set, before giving a bizarre post-performance interview later in the night.
D'Angel defended her actions in an interview published Thursday in the Jamaica STAR, saying that she did nothing out of the ordinary given the hardcore nature STING has possessed over the years, while saying she has seen artists split, gyrate and sing lyrics that could be deemed explicit, without any punishment.
"As a grown woman and an artiste, I am entitled to entertain and perform," she said "I have been watching Sting from I was a child and there is nothing that I did on stage at Sting that was far-fetched from all the things that have happened on that stage over the years."
"I stayed true to the culture of Sting, which is energy-packed entertainment," she continued. "I think outside the box. I was just having fun. It was just solid and mature entertainment. The patrons enjoyed it and the fans were happy. I represented dancehall on a wider scale. My music and career is not based on one night, my career goes on after this."
Sizzla's publicist, Olimatta Taal responded on behalf of the Grammy-nominated singer, saying organizers should not have attempted to censor him for speaking out against issues deemed illegal in the constitution.
"It is Laing's show but he knows the artiste that Sizzla is and he knows what Sizzla represents," she said. "If you book him for a show, don't censor him. If you want to fight the issue, then fight the Government…Sizzla was just expressing the values he was brought up on. Don't censor the artiste for that."
Neither artist indicated whether they will challenge these bans.
Source: examiner.com
Are you working on a small budget?. Would like to get your music out to the world?,Why not let us do your write-up, press releases and Reviews at a small cost. 
For a small cost we will do that for you and post them to our site. Why not contact us now? link us at info@dancehallreggaeworld.com with all your questions.

Here Here to see proof of a review that we have done.
Subscribe to our Eblast and get the latest Dancehall, Reggae News and Releases sent directly to you.
---
Subscribe to My Dancehall and Reggae Blog (no e-mail necessary), right-click on the orange RSS button (see bottom buttons to the left) and then paste the URL into your RSS reader. Or click on the Google, My Yahoo! My MSN button or Bloglnes button.

To have your projects featured on dancehallreggaeworld.com, Please email us at [info@dancehallreggaeworld.com]

Articles You Might Have Missed ......