Recording Artiste Don G Official Biography
Custom Search
The unique singer Don G was born 28 years ago as Rasheede Steele in the district of Riversdale, St Catherine, Jamaica, West Indies.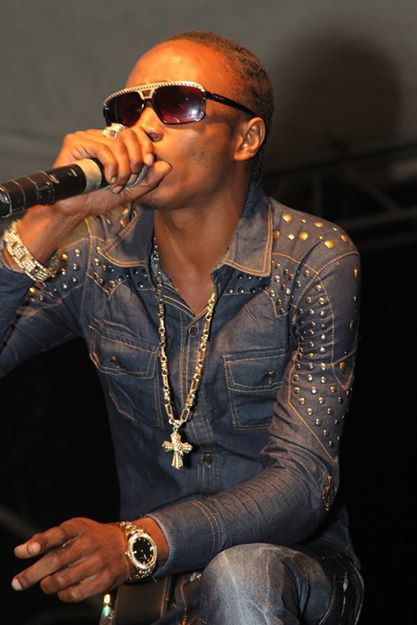 He grew up in the same community. In his early years he attended Tulloch Primary School and then went on to Bog Walk High School to further his education at the secondary level. While he was in school he first enter the stage when he was invited by the group ARP (A Raw Perspective), Daville former group.
From that moment people knew he had the talent. He then take up the mantle and Mr. Choice invited him to join the Nu Faze krew. This group was a Reggae/Rnb group which earned third place in the 2003 TVJ Reggae Trail Talent Show Grand Final in St Thomas. The group was doing very well, alot of shows and tv interviews until some of the members migrated and went to college. Then the group was broken up base on these factors.
Don G took his career to another level by going solo. He recorded with Skatta and Eva Burrell at King of Kings Recording studio and Free Willy Studio. He performed at hotels in Montego Bay and Negril where he got alot of love from the fans. In 2007 he was featured on the morning time show, Smile Jamaica (TVJ) and other local cable station such Community Link and Real Flexx Tv.He was also featured on (USTREAM TV) with an interview for STING 2009 where he performed to a well receptive audience, Now his career started to get mature.
Since early 2011 Don G has linked up with Dwayne Walker from Illis Production and recorded two singles "Thank You Father" and "What Goes Around" The single, What Goes Around has been getting regular rotation on Radio Stations locally and Abroad such as Hitz 92 FM, Roots 96.1 FM, Hot 102.FM, Suncity Radio 104.9 FM, News Talk 93 FM, Bess 100 FM, Irie FM And Zip 103 FM (Jamaica) And Dunoon Community Radio 97.4 FM (West Coast Scotland U.K). He also shoot the video for this single with Kyep_pahz Filmz. You can find this music video on Youtube at the following link, http://www.youtube.com/watch?v=Y3Vx1k_mlk0. It was uploaded in August 2012 And July 2O13 by some of the well known youtube uploaders such as yardlink254, HypeTV Jamaica, rastarespect, akam entertainment, and many others. What Goes Around was also featured on Global Linkz Radio Top Ten Chart (U.S.A) in March 2012 for three weeks at number three. Don G gain on interview from the same Radio Station also. 
CVM TV's E-Strip The Hitlist Countdown Chart premiered Don G - What Goes Around music video on June 3, 2013 at number five. With massive likes by the public the video jumps to number two and remains in same position for the rest of the month, In July 2013 It has been getting crazy reviews On HypeTV Cable Station, Follow by a Write up in Jamaica News Paper The STAR Entertainment Section Page 23 Features (Don G) Fresh Hit Singles ''What Goes Around'' ''Just Hold On'' And ''Even Though You Gone'' (Tribute) In September 2013. The Star Events Calendar Also Talks About Don G Annual Birthday Bash Held On November 8, 2O13 At The Bobocity Entertainment Lounge 2A GoodWill Avenue, Kingston 6. Above The National Stadium.
Base On his work ethic Don G has been booked and performed on many major stage shows across Jamaica such as: Sting (Jam World Portmore), Black River Day Irie Fm Street Jam (St.Elizabeth), Irie Fm In Di Area Road Show (Spanish Town) Sizzla Kalonji Charity Concert (Green Hill) Linstead Ackee Festival & Magnum Galiday Bounce (Linstead St.Catherine), Papa Curvin Earth Day Bash (Race Course Oracabessa In St Mary), Westmoreland EASTER SHOW CASE. And the list goes on.
It's a good look for Reggae music as a next star is on the rise from Jamaica with positive message...............
He has done alot of dub plates for world reknown sound systems such as Stone Love and Flava Unit just to mention a few. And also for Disc Jock's on Radio Stations such as Irie FM (Jamaica) and Tangola Radio (Barbados) also playing Don G's dub plates.
FOR BOOKINGS & INFO CONTACT:
BOBO CITY ENTERTAINMENT:
TELEPHONE: 876-504-5090/ 876-420-1684
BBM PIN - 7F33AC21
E-MAIL: bobocity7@gmail.com Or dongmuzik@gmail.com
Post Your comments/ views about this artiste below..
Post your views/comments on this artiste below also read what others have said about him/her.
Below you will see the contributions from other visitors like you.
Click below to see contributions from other visitors to this page...

Return home from recording artiste Don G page

Articles You Might Have Missed ......
Dancehall and Reggae Music Articles
Dancehall Reggae World's Favorites
Custom Search