Your Headline
Custom Search
Upcoming Dancehall artist, Da'Nandi is exuding confidence as he seeks to build momentum off recent collaborations that have garnered him more attention from the public's eye.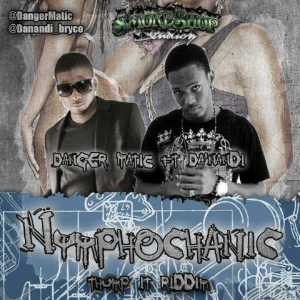 The young deejay emerged in 2012 with tracks such as the DJ Glama produced, Wine Up and Lyrical Gandi on the Yardlink Riddim. So far in 2013, Da'Nandi has been pushing two collaborations: Nymphochanic, featuring Toronto-based Dancehall artist, Danger Matic and Bedroom Bully, featuring Red Square deejay, Xyclone and former Portmore Empire original, First Lady Omeil.
Both joint efforts were crafted by the artist's manager, Jovanne 'Stewie' Anderson as they tried to create ways for Da'Nandi to become a more recognizable figure.
"I came up with a concept that was based on the modern or robotic feeling I received from listen to the Smoke Shop Studios produced, 'Thump It Riddim' which has on quite a few established artistes such as Ding Dong and Elephant Man," Da'Nandi told Examiner.com regarding how Nymphochanic came about. "The original idea was put forward by myself to Danger Matic, where he placed his spin on it and that's how the song came about!"
Da'Nandi feat. Xyclone and First Lady Omeil (Bedroom Bully)
Nymphochanic has garnered Da'Nandi consistent airplay on radio stations across the Greater Toronto Area (GTA) as well as locally while Bedroom Bully, a sexually-charged anthem, has also copped the young entertainer airplay, interviews and interest from established producers.
Da'Nandi is set to release his new, yet-to-be-named mixtape in April, featuring a number of his popular singles and is mixed by Boston-based disc jock and Big City 101.3 FM host, Sterl Di Pearl.
"The mixtape will a compilation of popular tracks released thus far since my debut single, 'Tell mi When' and also a few fresh and unheard of materials will be included and freestyles that are expected to be the forefront of the mixtape," he said. "(It is) only natural that based on the responses both tracks, 'Nymphochanic' and 'Bedroom Bully' have received, those will be included; tracks like 'Up Inna di Club" and 'Sensi Song,' which both gained instant recognition and airplay will also be on there."
Additionally, the artist has been dabbling in the business realms of his craft, featuring his new artist on the Don Majestic Entertainment (D.M.E) label, Kala for a new single called, Touch. He also has been gaining positive feedback for his track, Hunt Mi a Hunt on stations across Germany and Britain; claiming this is the beginning of a long, successful musical journey.
"As it's well known, ' WeaponX International,' who I call my family, will be releasing a few new projects for me also and I'm currently recording for a few new producers," he said. "I can safely say, that also a few videos are been organized; much in store."
Post Your comments/ views about this artiste below..
Post your views/comments on this artiste below also read what others have said about him/her.
Return home from dancehall artiste Da'Nandi page

Articles You Might Have Missed ......
Dancehall and Reggae Music Articles
Dancehall Reggae World's Favorites
Custom Search