Hello


---

Reggae Sumfest annunces Flow as Partner, enjoy live streaming.
FLOW, the Caribbean's largest provider of telecommunications and entertainment services, has inked a sponsorship deal with DownSound Entertainment Ltd. (DSE), owners and producers of the revitalized 25th Annual Reggae Sumfest music festival, that will see the entities partnering to provide a live broadcast of the iconic event across its cable network and online. FLOW will be broadcasting the event in 10 countries across the region as well as via an online broadcast on FLOW's website and Facebook page. Under the agreement, FLOW will also provide the sophisticated network services needed to power "Jamaica's Premier Music Festival" which takes place from July 16 – 22 in Montego Bay, Jamaica. Stephen Miller, FLOW Sponsorship Manager shares a light moment with Josef 'Joe' Bogdanovich, partner in Downsound Entertainment Ltd. (DSE), owners and producers of Reggae Sumfest at FLOW's Flagship store on Halfway Tree Road. FLOW has inked a deal with the promoter of the 25th staging of the annual Reggae Sumfest scheduled for July 16-22 in Montego Bay, Jamaica.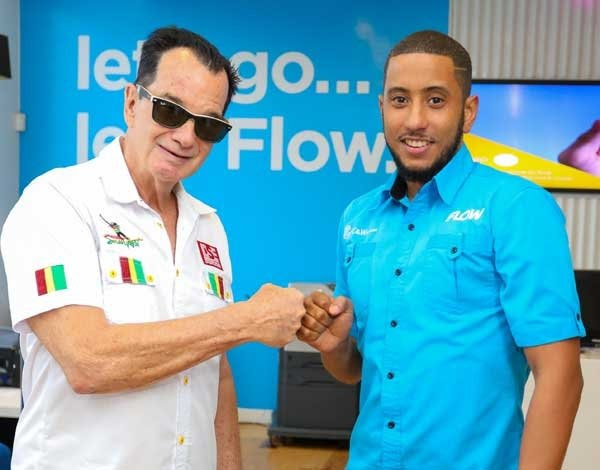 "This is a first for the region and it is indeed an honour for us to be partnering with DownSound Entertainment Ltd. on this, the 25th milestone anniversary staging of Reggae Sumfest. We further congratulate the team for the fantastic job it has done in re-engineering and repositioning this highly anticipated annual event as a valuable and globally attractive brand. We are delighted to share in this new legacy," shared Stephen Miller, FLOW's Sponsorship Manager. "This is also another trail-blazing example of the commitment we have made to use our technology to connect our customers with rich engaging activities and the content they love. For the first time, music lovers across the region will be able to view the show from the comfort of their homes via our FLOW 1 platform (Channel 100) as well as online whether via a computer or using a mobile device," Miller explained. FLOW will be offering a three-hour live broadcast from both Festival Night 1 Friday, July 21, which is being headlined by several renowned dancehall acts and Festival Night 2 Saturday, July 22, led by a bevy of international reggae superstars, via its cable network. The livestream which will be available at – www.discoverflow.co – or Facebook.com/FLOW Jamaica – will offer an extended broadcast from the exciting events. "Our partnership with FLOW is an extension of our global mission at Downsound Entertainment to expand the phenomenal experience offered by Reggae Sumfest while showcasing the rich Jamaican culture to the world. We are very happy to welcome FLOW on board to bring the live action to hundreds of thousands of fans who may have never experienced 'Sumfest' before," commented Josef 'Joe' Bogdanovich, partner in Downsound Entertainment Ltd., owners of the Reggae Sumfest Festival.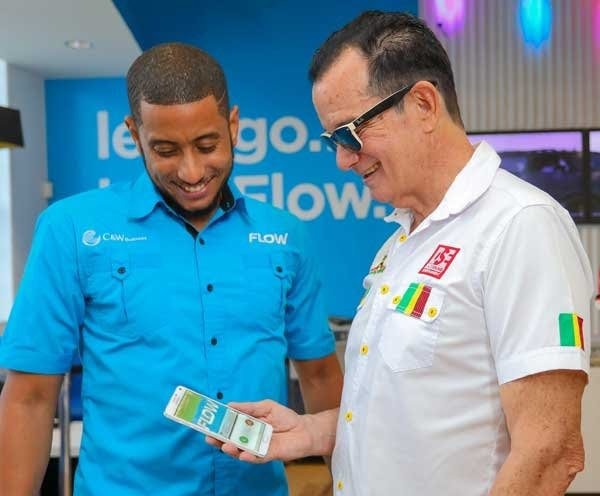 "We are aiming to reach more than 40 million viewers this year and this partnership with FLOW allows us to extend the local reach of the festival in a way that has never been done before," Bogdanovich added. He further expressed delight that FLOW, through the broadcast, will also be supporting the promotion of several local, up-and-coming reggae acts who will be aiming to make an impression on the international community through their performances. "Our partnership deepens our support of a uniquely Jamaican cultural product and experience through this vibrant entertainment event that our customers know and love. It is also one of the ways we are making a contribution to the promotion and development of Brand Jamaica through this annual activity which has brought tremendous returns to the island over the past 25 years," Miller said in closing. Starting in 2016, Downsound Entertainment Ltd. has revitalised the Reggae Sumfest Music festival in order to pay greater homage to the origins of reggae music and preserve its authenticity
---
Stephen Marley & Son Jo Mersa Marley to Perform on Sumfest
Downsound Entertainment is proud to announce the addition of a special performance by Stephen Marley together along with his son, Jo Mersa Marley on Saturday, July 22 2017, celebrating the 25th Edition of Reggae Sumfest in Montego Bay Jamaica.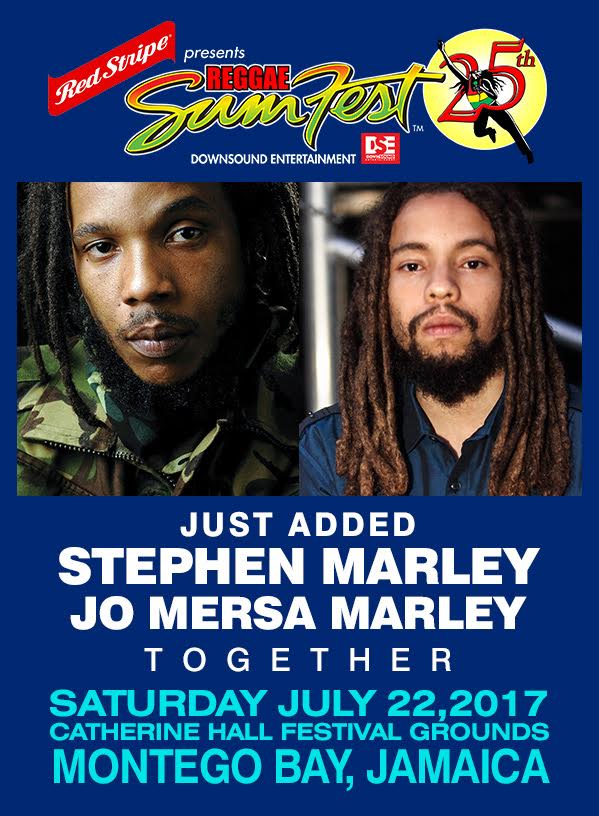 ---
Ultra VIP Offerings
Reggae Sumfest is offering on Friday and Saturday nights, a 10 x 20 Cabanas for 10, & 10 x 10 Cabanas for 6, and Bottle Service Lounges for 6. In addition to these Cabana offerings, Sumfest is also offering single seats on this Ultra VIP platform for only $100 each and the customer gets two Red Stripe beers! VIP Seating is limited so reserve yours today.
When a festival attendee buys a Cabana or a Bottle Service Lounge ticket, they will be contacted by a Sumfest concierge representative details on their choice of beverages and instructions on how to pick up their packages of tickets, wristbands, parking passes, and Sumfest swag.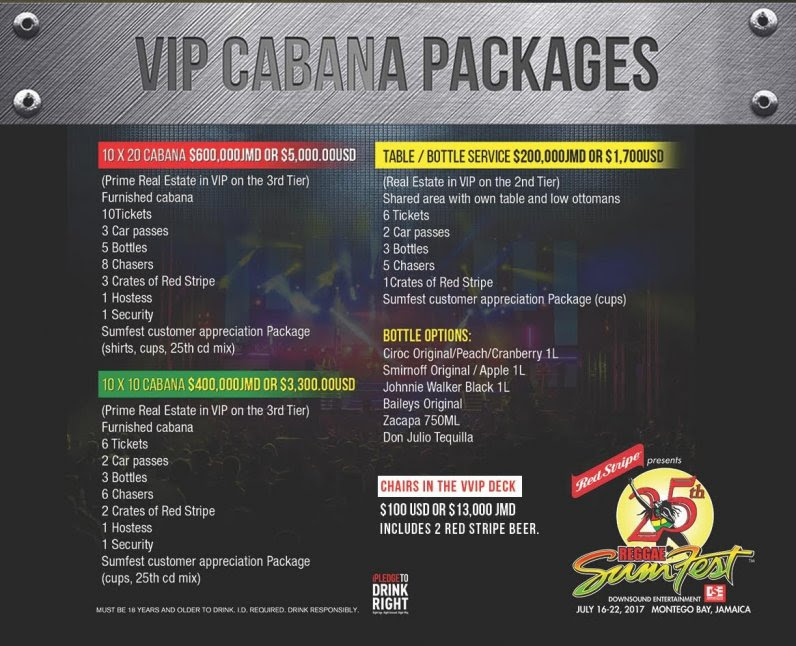 Individual Seat purchasers can go straight to the festival with their ticket to get wristband and drink tickets.

VIP Cabana & Bottle Service package holders pick-up info and location: Sumfest Media Room at The Wexford Hotel Gloucester Ave., Montego Bay Opening Hours:

Wednesday, July 19 1:00 p.m. – 5:00 p.m

Thursday, July 21 11:00 a.m. – 6:00 p.m.

Friday, July 22 11:00 a.m. – 6: 00 p.m.

Saturday, July 23 1:00 p.m – 4:00 p.m.
---
Reggae Sumfest 2017
With a line-up featuring many of Reggae's biggest stars, it's no wonder that Reggae and Dancehall lovers from around the world are making the Sumfest Week their summer vacation!

The 2017 ReggaeSumfest Festival presented by RedStripe in Montego Bay on July 16-22, 2017 is going all-out in celebrating this 25th Anniversary.

~ Themed Pre-Parties All Week Long ~

Sunday July 16 - At postcard-perfect Tropical Bliss Beach with a wet, wild, and risqué Beach Party, The Adult Playground, complete with Beach Bunnies offering beverage service, swim-up ocean bars, wild rides and games, and more surprises.

Monday July 17 - 500 lucky fans board the Treasure Queen yacht in beautiful Montego Bay for a four-hour Party Cruise, followed up by a late-night after-party at Pier 1 Bar & Restaurant on the Bay.

Tuesday July 18 - The always-packed All White Party at Pier 1 with everyone dancing and romancing in their finest and sexiest whites.

Wednesday July 19 - The Blitz: Retro Block Party; everyone comes in outrageous 90's Dancehall Costumes and hears the best of Jamaica's signature Dancehall beats that changed global pop and urban music forever, and celebrates the evolution of Dancehall Music in the wild 90's.

Thursday July 20 - Heavyweight Sound Clash will feature a lineup of International Sound Systems battling for prizes, with guest appearances by legendary Sound Systems from all over the world.

Main Events – Friday & Saturday, July 21 & 22 The Catherine Hall Event Center, located right on the Bay, hosts the all-night-long lineups of the Greatest Jamaican Dancehall & Reggae Stars in the World including Alkaline, Mavado, Sean Paul, Sizzla, Bounty Killer, Beenie Man, Queen Ifrica, and many, many more!

Come play with us all week long in Jamaica July 16 – 22, 2017 and help us celebrate our 25th anniversary of Jamaica's Premier Reggae Festival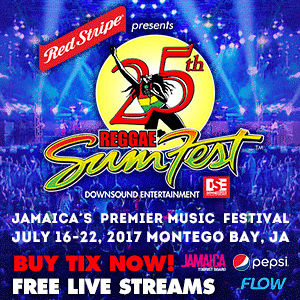 ---
Check Out D&RW BLOG
Please do remember to check out our blog for the latest Happenings in the world of Dancehall and Reggae music. DANCEHALL AND REGGAE MUSIC BLOG LINK>>