Hello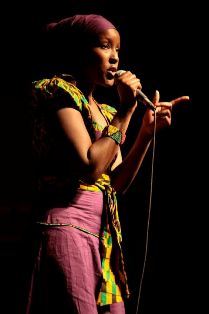 Greetings to all, I'm happy to have all of you as supporters & subscribers to my site, you are more than listeners, fans or contacts, my site is a piece of my life so you are classified as that too...a part of my life...family.

I build on honesty & good music,put God first & all others second.

Today I am honored to introduce to you an artiste I've been listening & watching for a few months,to me she's more than an artiste....better words are an Ambassador or a Messenger but however I'm thrilled to be involved with her movements globally...

Some of you may have seen her here on Dancehallreggaeworld or heard her on the local radio but KHALILAH ROSE is deliver to us "good soulful real positive Roots Reggae"

I would like for you to take a listen to her new single "Not Giving Up" and you will automatically be a supporter & rebel with a good cause!

I've attached the song but also on the links below please visit for more FREE music & past and future tour dates.

Read More about Khalilah here on dancehallreggaeworld.com

www.reverbnation.com/khalilahrose

www.facebook.com/khalilahrosenyc

Khalilah has one of the most watch video on the island of Jamaica and she is gaining traction in the US, Europe and Africa.

Click here to Watch Khalilah Rose Hail H.I.M
---
Dancehall Reggae World is about Jamaican music. We provide information on current events in the music industry, artists, lyrics, news, views, charts, you name it, we will do it once it involves our music.
If you like this e-zine, please do a friend and me a favor by "paying it forward".
If this was sent to you by a friend and you like what you read, please subscribe by following the link below. Subscribe here................
---
---
Dancehall and Reggae Related Items.
For all your dancehall and reggae cds, dvds, shirts and more, visit our dancehall and reggae items page, follows the links and have fun..............


---
Check out our EXCLUSIVE news reports each day. Keep visiting to keep up to date with the most interesting dancehall news of all times.
Remember you can send all your dancehall and reggae related information to us at info@dancehallreggaeworld.com and or sgayle@dancehallreggaeworld.com, some services are currenlty running free for a limited time.
Check our site each day for new music to download....
---
---
Thank you for reading and I look forward to providing you with some hot new dancehall news nest issue............