Hello



"Some man a gi bun and a get back bun, a nuh notuh dat call it bun fi bun" a line from one of the late "Captain Barky" 90's hit song.

For those of you who dont know what bun is...... let me explain. "BUN" is cheating.....

How ironic....... Captain Barky dead because of "BUN". Our sincere condolences to the late Captain Barky's family,

Vegas life out the door with 2 news songs because of "BUN"(see them below)
---
DRW Monthly Competition
Look out for our monthly competition where one or more winners will get a chance to win cool prizes......... watch out now its gonna be exciting.
Each week, keep visiting our site for information.
---
Dancehall Reggae World is about Jamaican music. We provide information on current events in the music industry, artists, lyrics, news, views, charts, you name it, we will do it once it involves our music.
If you like this e-zine, please do a friend and me a favor by "paying it forward".
If this was sent to you by a friend and you like what you read, please subscribe by following the link below. Subscribe here................
---
Picture of the week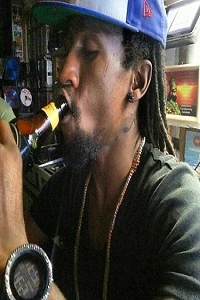 ---
"KipRich says Matterhorn looking a Christmas hype"
By: CURTIS CAMPBELL, STAR Writer
Sting 2012 is already looking to be a potentially explosive event as dancehall artiste Tony Matterhorn has managed to stir up much controversy within the dancehall arena.
Releasing a series of dis songs that lyrically challenge several of dancehall's top acts, Matterhorn, in his most recent single, Coolie Duppy, has reached the ears of the raining Sting 'War King' KipRich. However, the deejay, though not ruling out a war with Matterhorn, says the artiste is merely looking for a hype.
"I am working on an album and a record deal with a UK-based company so a that mi a sort out. Suh mi nuh really know wah gwaan a Jamaica as it relates to war, mi just a mek songs fi mi album. Matterhorn just a throw wild fire, him nuh serious, him a coward. A tru a di end of the year mek him a come wid dat, because him neva inna the business much, suh him just a try get a Christmas hype. Him betta know wey him a duh and try nuh become one a dem pepper-light artiste deh and duh some real music," KipRich warned.
According to KipRich, war songs are not marketable.
"Mi guh Colombia and Nicaragua and dem nuh waan war, a performance dem want with good music, suh a dat mi a work pan," he continued.
"Mi ambitious and nuh money nah guh mek offa Matterhorn. He is a selector who just deejays on the side, suh this is just a Christmas hype for him, people voice note mi him song and mi just laugh. Matterhorn nuh deh pon mi level and a tru the Twin dem did sick mek him win the clash last year and it was complicated for both of them to deejay at once," he said.
---
Dancehall and Reggae music artist "Vegas" Cries out...
Dancehall and Reggae music artiste Mr Vegas sat down with HOT 97 Cipha, Rosenberg & Kfoxx in his first interview after he went publicly on Social networks and reveal that his girlfriend slept with another man in his house infront of his two year old daughter.
In the interview he said they we actually making love in his bed with his daughter beside them sleeping.
Watch the full interview below...
---
Mr Vegas Bare Tingz Lyrics
Exclusively by dancehallreggaeworld.com
Gyal have man before the baby christen Sharon you warn me, yah mi shoulda listen But now dat the relationship done Gyal a check mi from all inna belguim Anyweh mi walk anyweh mi tun Gyal a tell me say dem ready fi settle down Gyal if mi a gi yuh bun and yuh ago go gimme back some Don't carry him a mi house come bruck it down Cause dem deh bun deh hotter than the sun Nuh dweet pon the bed better yuh dweet on the grung
---
Dancehall and Reggae Related Items.
For all your dancehall and reggae cds, dvds, shirts and more, visit our dancehall and reggae items page, follows the links and have fun..............


---
Check out our EXCLUSIVE news reports each day. Keep visiting to keep up to date with the most interesting dancehall news of all times.
Remember you can send all your dancehall and reggae related information to us at info@dancehallreggaeworld.com and or sgayle@dancehallreggaeworld.com, some services are currenlty running free for a limited time.
Check our site each day for new music to download....
---
Mr Vegas Rise Again lyrics
Exclusively by dancehallreggaeworld.com
I Know That It's Over, Yeah But I Can't Believe We're Through They Say That Time Is A Healer But I'm Better Without You It's Gonna Take Time I know But I better get Over Over You
Just look At My Life Look At My Heart I Have Seen Them Fall apart Now I'm Ready To Rise Again Read more here............
---
"Happenings"
Our regular feature of "Happenings" will be sent at a later date. Sorry for any inconvenience......

Cool Spots in Montego Bay Jamaica

*Margaritaville

*Coral Cliff

*Blue Beats

*Twisted Kilt