Hello



Special Thanks to Ms. Karla Ashley for designing our new website banner.

Many thanks to you our valued visitors for your continued support. Dancehallreggaeworld has been growing from day to day with the latest news, the best dancehall and reggae music content on the net.

Yup, you heard...... The thing ago tun up yah now......"just look at us now........."

The best ratings, and growing unique visitors........

Guess what???????? There's more to come, "jus watch the ride"

One love..
---
Dancehall Reggae World is about Jamaican music. We provide information on current events in the music industry, artists, lyrics, news, views, charts, you name it, we will do it once it involves our music.
If you like this e-zine, please do a friend and me a favor by "paying it forward".
If this was sent to you by a friend and you like what you read, please subscribe by following the link below.
Subscribe here................
---
---
"Stores reject Vybz Kartel's book"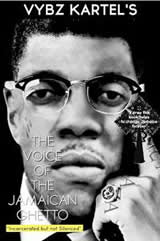 By: CURTIS CAMPBELL, STAR Writer
Since the release of Vybz Kartel's book 'The Voice Of The Jamaican Ghetto', many Jamaicans have greeted the book with objection. However, merchandising manager at Whirlwind Entertainment group limited, Aisha Stewart, says persons should read the book before being judgmental.
Stewart, who holds the responsibility of dispersing the books to stores globally, says many local stores have rejected the book without knowledge of its content.
However, the orders have been coming in from overseas.
"The progress is good, we are getting a good feedback in Germany, Switzerland, Japan, Bulgaria, Chile and Amsterdam. A lot of orders are coming from the European side. I have friends who have also expressed that the books should be in the schools," Stewart said.
"People say negative things about Vybz Kartel because of the bleaching; however, bleaching existed before Vybz Kartel so he should not be held accountable for that. A few local stores have said they don't want the book in their stores because it's Vybz Kartel and he is a bad person," Stewart said.
According to Stewart, the action of some store owners reflect a narrow way of thinking.
"I think that it is just being small-minded. Just because you don't like the person and the situation, you are fighting the book. Some of them haven't read the book and are making a judgement based on ignorance. You have to be open-minded, pick up the book and read it because we are not gods, and only God should judge us," Stewart said.
Co-author for the book, Michael Dawson, believes there exists a huge misconception about the book.
"They think it's about lewd lyrics, violence and pro-devil messages, however, the book rejects those things. He speaks of putting in place mandatory age restriction for dances and music censoring. He apologised for singing a particular song, he calls for more research to be done about Tacky and the Rodney riot and other things, so it's mostly Jamaican history," Dawson said.
The co-author also encourages locals to look past the negativity and read the book objectively.
"I wish people would try to look past the negative aspects and just read. That would correct the misconceptions because the book is contrary to the preconceptions," he said.
Dawson also expressed disappointment in the local schools.
"The book sold more in Europe than in Jamaica and it's more successful in the US, than Jamaica. I thought the schools would have taken on to this being that it's the place where these developments would be interrogated," he continued.
"There has always been criticism that Kartel has not used his notoriety for positivity and now when he has done that it is being greeted with reject," he concluded.
In capitalising on the international success of the book, Dawson disclosed that there are ongoing plans to distribute translations in languages such as French, Dutch, Spanish, German and Portuguese.
Local stores currently hosting copies of Adidja Palmer and Michael Dawson's book include Kingston Bookshop, Sangster's Book stores, El Passo in Montego Bay, Bookophilia and the national airports.
Stewart disclosed that the airports are the main sellers locally, noting that every month there are requests for restock.
---
Listen & download "Jah Cure - All By Myself ft. 2Pac"..
Reggae singer Jah Cure has released what you could consider as a crossover hit "All By Myself" which features Rap superstar the Late 2Pac. Listen here
---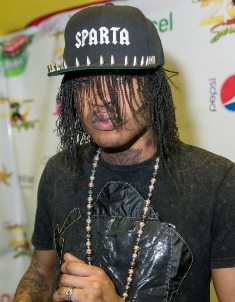 Tommy Lee and Vybz Kartel's Demon songs getting Criticism from Bounty Killer and Skatta Burrell
Uncle Demon and Daddy Devil by Tommy Lee and Vybz Kartel getting Criticism from all corners of the the dancehall and reggae music industries.

Over the last few days, Bounty Killer took to social media outlet, Twitter to voice his frustrations against Tommy Lee and other Dancehall artistes who use demonic lyrics in their songs.

Read more here and listen song...........
---
Dancehall and Reggae Related Items.
For all your dancehall and reggae cds, dvds, shirts and more, visit our dancehall and reggae items page, follows the links and have fun..............


---
Check out our EXCLUSIVE news reports each day. Keep visiting to keep up to date with the most interesting dancehall news of all times.
---
What is your favourite Busy Signal Song?
With dancehall artiste Busy Signal locked up in Jail in the USA, We here at www.dancehallreggaeworld.com is running a poll on Busy's huge catalog.
We would like to see which of his songs are the most popular.
---
"Happenings"
Cool Spots in Montego Bay Jamaica
*Margaritaville
*Coral Cliff
*Blue Beats
*Twisted Kilt
Friday, September 21, 2012 Walking on Air Walking on Air, Alaine Birthday Concert. Featuring Sherieta Lewis, Voicemail, Tarrus Riley, Dean Fraser and Christopher 'Johnny' Daley. Cost:$1,000 presold, $1,200 at the gate Venue:Redbones Blues Café, New Kingston Time: 9:00pm
Magnum Double Doze Of Sexiness Tallman Birthnight Party, Magnum Double Doze Of Sexiness. Music by Flava Unit. Venue:RT Plaza, Bayside, Port Henderson Road, Portmore Time: 9:00pm
After-Work Jam Venue:Bleu Essence Lounge, Kings Plaza, St Andrew Time: 6:00pm
Saturday, September 22, 2012 Yard 2012 Patrick Brown's Yard 2012, Fundraiser for Church of St John Evangelist. Cost:$1,500 Venue:Centre Stage Theatre, Dominica Drive, New Kingston Time: 5:00pm
Swag Eva Tun Up Music by Super Mix. Venue:Upton Square, Mount Regale, St Mary Time: 9:00pm
Party With The Stars Music by Ranger Force Venue:Bar-A-Bar, Copper Ridge, St Andrew Time: 9:00pm
Thursday, September 27, 2012 Arthur Guinness Day Concert Featuring Sizzla, Popcaan, Destra and others. Venue:National Indoor Sports Centre, St Andrew Time: 4:00pm
Friday, September 28, 2012 Stone Love In Concert Area 3 Police Sports Club presents Stone Love In Concert. Featuring Stone Love, Alonzo Hawk, Welton Irie and Niney Badness. Venue:Hatfield Plaza, Manchester Time: 9:00pm
Replay Replay, 80s And 90s Boogie. From 8 p.m. to 2 a.m. Music by Mix Master Marvin, Delano, DJ Courtney and Travellers Disco. Cost:$1,500 with invitation, $2,500 presold, $3,000 at the gate Venue:Constant Spring Golf Club, St Andrew Time: 8:00pm
Saturday, September 29, 2012 The More Dem Fight Mi Di Stronger Mi Get Greatas Promotion presents Nadine Birthday Bash, The More Dem Fight Mi Di Stronger Mi Get. Music by Xxzibit, DJ Ray and Fire Blacks. Venue:78 3/4 Hagley Park Road, St Andrew Time: 8:00pm
Magnum Container Satdazs Music by More Money International & The Uncontainables. Venue:Regent Street, Denham Town, Kingston Time: 9:00pm
I Love Soca Appleton Estate presents I Love Soca, Cooler Fete. From 8 p.m. to 2 a.m. Music by Selector Myles, Titan VCD and Richie Ras. Cost:$1,000 presold, $1,500 at the gate Venue:22 Hopefield Avenue, St Andrew Time: 8:00pm
Hype Meets Hotness Mr. Universe Promotion presents Mr. Universe Birthday Party, Hype Meets Hotness. Music by Grenade Sound System. Featuring D'Angel, Lady G, Baby Tash, and Tony Frass. Hosted by Elise Kelly from Irie Fm. Cost:$499 Venue:Billy's Skateland, Grange Hill, Westmoreland Time: 9:00pm
Fashion Night Out DJ Shawn Birthday Bash, Fashion Night Out. Featuring Sizzla, Turbulence, Chi Ching Ching, Majesty, Orthadax, Champagnie and others. Music by Super Mix, DJ Phil Dawg, DJ Shawn, San Hype, Boom Boom and others. Venue:Temple Hall Club House, St Andrew Time: 9:00pm
Altitude Black & White Anniversary Music by Code Red and ZJ Chrome. Cost:$1,500 women, $2,000 me Venue:Casa Loma, Jacks Hill, St Andrew Time: 9:00pm
2012 CB Pan Chicken Championship Central Regional Eliminations Caribbean Broilers (CB) presents 2012 CB Pan Chicken Championship Central Regional Eliminations. From 10 a.m. to 5 p.m. Venue:Leiba's Esso, 36 Manchester Avenue, May Pen, Clarendon Time: 10:00am
Sunday, September 30, 2012 Young Wild & Free Music by Hium, Little Richie, Hotta Ball, Fire Ribbz, Hatta Klaps and others. Venue:Lower York Street, Kingston Time: 9:00pm
Amor Amor, Autumn Fantasies. From 2 to 10 p.m. Music by ZJ Chrome, Chromatic, DJ Flabba Dabba and Jean Pierre. Cost:$800 with invitation, $1,000 without, women free invite before 6 p.m. Venue:7 Merrick Avenue, St Andrew Time: 2:00pm
Thursday, October 4, 2012 Twitter Thursdays Music by DJ Kurt Riley. Cost:$500, women two-for-one, students with ID $200 Venue:Club 47, Mandeville Time: 8:00 pm
Saturday, October 6, 2012 S.P.L.A.S.H Water Party Venue:Porus Community Centre, Manchester Time: 8:00pm
Missing You Like Crazy God Bless Promotion Muma Ann Birthday Bash, Missing You Like Crazy, Souls Affair. Music by Fresh International and Ranger Force. Venue:The Cribs Lower Maryland, St Andrew Time: 8:00pm
Damp From 4 p.m. to midnight. Venue:Y-Not Beach, Port Royal, Kingston
Sunday, October 7, 2012 Spready Glory Birthday Bash Spready Glory Birthday Bash, Di Ultimate Bikini Foam Party Edition. Music by Super Mix, DJ Smurf, Rich Squad and Dynamite. Venue:Solo Place Pagee Beach, St Mary Time: 8:00pm
Friday, October 12, 2012 Guinness Ochi Explosion Laing Events Management presents Guinness Ochi Explosion. Performances by Tommy Lee, Aidonia, Jahvinchi, Blak Ryno, Zamunda and others. Music by ZJ Liquid, Ashile, Illusion and others. Cost:$1000 general,$1,500 VIP Venue:Margaritaville, Ocho Rios, St Ann Time: 9:00pm
Saturday, October 13, 2012 Ouch Snazzy Lady C presents Ouch Snazzy. Music by Raw Glamour and DJ Teach. Venue:Tranquility Sports Bar, Walderston, Manchester Time: 8:00pm
Sunday, October 14, 2012 Who Hyper Who Hyper, Glitz & Glamour Edition. Music by Sniper International, ZJ Liquid, ZJ Johnny Kool and Quality International. Venue:Tavern Community Centre, Papine Time: 9:00 pm
Saturday, October 20, 2012 Eva Clean BloodStain Entertainment presents Sean Birthday Bash, Eva Clean. Music by BloodStain, Phill Dawg and DJ Shawn. Venue:Shoppy Car Wash, Stony Hill, St Andrew Time: 9:00pm