World Clash 2012 Montego Bay Jamaica
World Clash 2012 - One of the biggest dancehall event returned to Pier One
in Montego Bay, Jamaica on April 12, 2012.
Dancehallreggaeworld.com entered the Pier One venue at around 12:00am in the morning to early juggling from Trophy Sniper from the Olympic Sound System.
Veteran radio presenter and winner of many world clash competitions David Rodigan, who was not not a competitor this year played a short set in celebration of Jamaica's 50th anniversary. His set was very strong, laced by reggae hits from the 1970s and 1980s.
After Mr Rodigan short but very entertaining set had ended, it was clash time.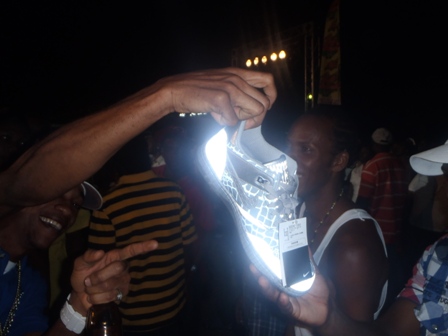 Pier one was almost full to capacity and the patrons were ready!. The sound systems who entered into the 2012 World Clash were:
1. Bass Odessey - Jamaica
2. Black Kat - Jamaica
3. Heavy Hammer - Italy
4. Black Blunt - Jamaica
5. Code Red - Jamaica
6. Kilamanjaro - Jamaica
7. Roots Sound System - Canada
Host for the night Tony Matterhorn layed down the rules and got the show started.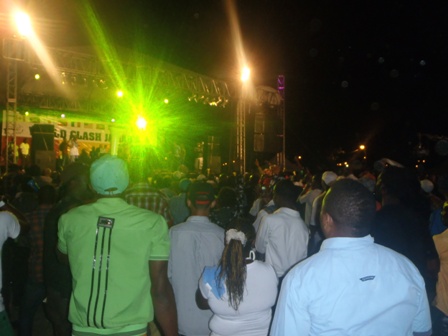 In round one all sound systems was given fifteen minutes, no sound was eliminated from this round. Each sound represented and show the patrons what was to be expected in the following rounds.
In round two the sounds were all given five minutes and they really stepped up their game and seeing two sounds being eliminated, Roots sound system and Code Red.
By this time everyone in Pier One was now talking about the Italian sound system "Heavy Hammer". Even though they were playing in Jamaica for the first time, it was as if they were here many times before. As the competition went on they became even more stronger, playing some of the biggest dubplate from veterans and current dancehall and reggae music artists.
In the third round which was also set for five minutes. The Black Blunt sound system with the infamous "Avatar" selector who was leading the clash along with Bass Odessey up to this point, lost their way and was eliminated along with veteran sound system "Black Kat" who just did not represent them-self to the fullest. You could heard patrons inside the venue sayingthat Black Kat was missing its veteran selector "Panther".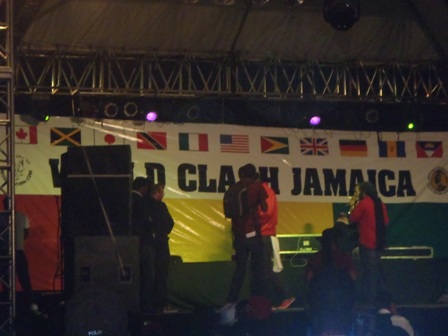 With only Heavy Hammer, Bass Odessey and Kilamanjaro remaining in the competition, Pier One was now on edge for the fourth round.
World Clash 2012 fourth round is considered to be the hardest and tuffiest round, because this is were the sound systems have to proved why they should be in the final.
Heavy Hammer was eliminated because they could not matched up with Odessey and Jaro who were playing some really top shelf veteran dancehall artists on dubplates.
The dreaded Dub for Dub session between Kilamanjaro and Bass Odessey really lived up to expectation as both sound showed why they are the kings of clashing.
They both played selections from artists such as Garnett Slik, John Holt, Gregory Issacs, Dennis Brown, Bounty Killer, Marcia Griffiths and Jimmy Clif.
Both sound systems were set to play ten dubplates each but after only six, the cops (police) came and said it was time for the show to end, but after negotiating with the promoters Irish and Chin they allowed each sound to play one more tune each.
The score at this point was three all (tied). The Mighty Kilamanjaro played their final dubplate first which was a Toots and the Maytals, this had the entire Pier One in a frenzy. But when Bass Odessey reply with a dubplate from Jimmy Cliff it was all over by the shouting, gun finger salute and screaming.
Bass Odessey is World Clash 2012 champion.


Are you a Sound System owner or Selector?
Send in you're sound Name and contacted information and we will update it on this page.
See information about other sound below..
Click below to see contributions from other visitors to this page...

Jamxtra sound

Jamxtra sound is owned and operated by Dj Smiling Killa. Smiling was born in St Ann, Jamaica, but he later moved to live in St Catherine. He started …
kul runingz Not rated yet
Righteous Africans Serving The Almighty. Kul Runingz is a Zimbabwean Sound based in Port Elizabeth ,South Africa. Led by Ras Billiard, Kul Runingz is …
Return home from World Clash 2012 page