Recording artiste Villa Dutch
Custom Search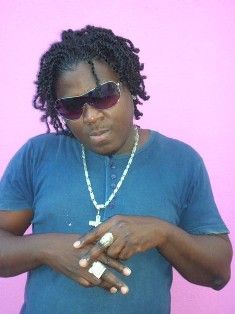 "Rising out of the parish of St. Catherine in a small town called Linstead, Villa Dutch and Feekez where able to emerge despite the many struggles of the streets.
They First started their music career just voicing-out at one of their friend's small demo studio engineered by K.V. After mounts of rehearsals, K.V was adamant that they where indeed ready to take their talent places. The "Eminent Crew", the name they had took on to, was never-the-less doubted of them as they took strides eminently. Dutch and Feekez went on to start their professional career in St. Mary, Tower Isle where they teamed up with producer King Hopeton, owner of double Lion recording studio.
He's, poise and very determine thus, altering his innate calm is least accomplished. Feekez on the other hand, is stylish, fashionable and in his voice there is a melody that is pleasantly tuneful. With strong verb, Villa and Feekez were blessed to meet Irie Fm's radio disc jock and now producer, G.T. Taylor, the dancehall master. It was now that the music would have gain more recognition and popularity for the duo.
The dancehall master crafted songs with these artistes such as, why can't you be my lady, that would have recorded as their first popular song recorded, and their most recent of them all better world, a song that will surely inspire and uplift the minds of many youth. Villa Dutch, Feekez and The Master G.T. Taylor, erected not just a collaborative work team, but more of a family that has enduring strength.
As the slogan stated "ready fi di whorl", which is not really just giving a phrase but certainly, they are more than ready. Get familiar with Villa Dutch and Feekez, they are two combinations that are of great longevity, using style, class, catch-phrases, conscious lyrics and versatility to have you dancing off your feet."
Share your views/ comment on this Artiste!
Do you have a great story about him/her? Share it!
What Other Visitors Have Said about this artiste..see below
Click below to see contributions from other visitors to this page about this artiste...

Return home from VILLA DUTCH page

Articles You Might Have Missed ......
Dancehall and Reggae Music Articles
Dancehall Reggae World's Favorites
Custom Search