The Captain Colin Hines and Delano to perform for Nostalgia in Abu dhabi
by DRW
(Jamaica)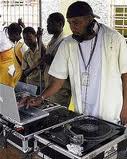 The captain Collin Hines
Fame FM Disc Jock "The Captain Collin Hines and DJ Delano from Renaissance Disco are booked to perform in Abu Dhabi at an event called Nostalgia in Abu Dhabi.

the event is being marketed as 'Abu Dhabi's first Exclusive 80s Dance Party. Relive the era when everything was bigger, louder and brighter'.

The party will be held at the Abu Dhabi National Exhibition Centre on December 8 and will also feature the skills of another renowned Jamaican disc jockey, Delano of Renaissance Disco.

The conceptualiser of the event is Jamaican Mandi Bent, who has been working in Abu Dhabi for the past six years as event director at the Dome Exhibition Centre. She explained that there is a community of Caribbean and UK expatriates thirsty for this kind of entertainment, therefore the decision was made to fill their cup.

"We have had concerts with international artistes like Janet Jackson, Britney Spears, Jimmy Cliff and Sean Paul, but this is the first time we are having a party of this kind in the UAE," she stated, adding that Abu Dhabi is not the same place as Dubai, although both places are in close proximity.

Bent sees this as a milestone in shaping and diversifying the entertainment offering in the Emirates, adding that the response has definitely been encouraging. She noted that in planning the event she went after 'A' list disc jockeys who have a keen sense of 'situation appropriate' and the knowledge base to
respond musically to any given situation.
In their promotion and marketing efforts, the organisers have been using the social network options available, including placing an ad on Youtube, voiced by The Captain Collin Hines. According to Mandi, in the next few weeks, all her systems will be in high gear as preparations are pumped up.
As for Hines, he has declared that the turn of events that has led to this posting is nothing short of 'serendipitous'.
"It's just amazing," the popular disc jock stated. "A few years ago, I helped out a young artiste, who has now carved out quite a niche for himself in the business. This same artiste pinged me a few weeks ago about this event that was being planned in Abu Dhabi. He said he had recommended me for the job. So I got the numbers for the promoters, passed them on to Empire Management, and the rest is history."
Quizzed about his strategy for this trail-blazing event, The Captain, who always has a whole lot to say, paused briefly.
"Actually, there's no specific plan," he confessed, seeming to edit his words as he spoke. "We are going to Abu Dhabi with an open mind and lots of music. The challenge will be for us to be as octopus as possible and have our musical tentacles out and ready. Musically, you have to think cosmopolitan, and since music is our forte, then that in itself will not be difficult."