Reggae artiste Supreme release new singles
Custom Search
Supreme was born and raised in an area known as "Deeside", Trelawny a few miles outside of Montego Bay in Jamaica.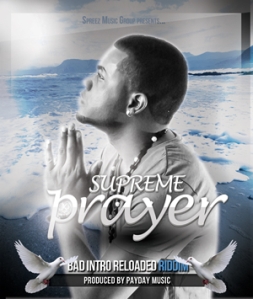 At the young age of 9, Supreme was deejaying (rapping) gospel-style at his church. 
At age 15 he started making full-length songs and taking music seriously.  A few years later, shortly before coming to Canada, Supreme entered the fellow Trelawny native, Olympic Gold Medal and Record holder -  Usain Bolt hosted show 'Trelawny Got Talent' where he was crowned the top performer, easily winning the contest!  At age 22 Supreme migrated to Canada and about 3 months later he met Spreez (Spreez Music Group) and the rest is history. 
Today Supreme's songs, voice, lyrical skills and delivery have been touted as being greater than many dancehall artists anywhere.
ü  Supreme won Olympic sprinter Usain Bolt's "Trelawny Got Talent 2009" contest
ü  Supreme recorded the official JA 50 Celebrations song "Proud To Be A Jamaican" (OverTime Riddim) http://www.youtube.com/watch?v=ImxsD5bG6wQ
ü  Supreme was chosen by the Dancehall Producer of The Year 2012 Markus Myrie (Buju Banton's son) to record a song for his Markus Records label
ü  Supreme recorded and released collaborations with major artists including Big Wayne & Calado of Bounty Killer's Alliance, Darrio of SubKonshus Music, Charly Black, the legendary Don Goliath, France artist Rehsus, rapper FAME and many more
Supreme's debut Solid & Simple: The EP was named the Number 1 Soundcloud.com dancehall EP http://soundcloud.com/tyrelsuprememclean/sets/solid_and_simple-the_ep/
GO FI DI PAPER featuring DARRIO (SubKonshus Music) made the Worldwide Top 10 on BroadJam http://www.broadjam.com/browse/songs/top10/index.php?l0=g&l1=14.  Broadjam.com  has 500 000+ songs + 110 000+ artists!
PARTY TUN UP was awarded the title of the Official Caribana 2012 Party Song http://www.youtube.com/watch?v=qFMUd0sAykE
THIS IS FOR THE WORLD featuring the SMG All Stars was awarded the title of Best Toronto Peace Song by the multicultural website 2ronto.com http://www.2ronto.com/newsite/original-content/film-music-reviews/2rontocom-chooses-best-toronto-anti-violence-peace-song-2012-supreme-this-is-for-the-world
Supreme performed his many hits live on stage alongside heavyweights such as POPCAAN, MYA TONY MATTERHORN, WAYNE WONDER, BUSY SIGNAL, CHINESE ASSASSIN and CAPLETON.  *See footage of his performance with Mya, Popcaan, Tony Matterhorn and others http://www.youtube.com/watch?v=GIfkvw2t30g*
Supreme releases LYRICIST, COME INSIDE, DO AS I SAY, SEX U RIGHT, ONE TIME, SERIOUS TING, DOIN IT RIGHT, HARDCORE, TENDER LOVIN and more received non-stop radio play on Canadian FM radio, particularly on Toronto DJ WIZ's WIZOLOGY SHOW on CHRY 105.5FM, as well as online on such websites as dancehallreggaeworld.com, jamrockone.com, ryzeradionetwork.com, carib101.com, jjevafrass.com, dancehalljamaica.info, boneyaad.com, vybzentertainment.com along with other countless DJ Spins. 
What's Next for the Star?
Summer 2013 Supreme will be touring his home island of Jamaica performing his hits at numerous events. 
A widely praised and respected artist, Supreme has written, recorded and is featured on numerous commercial recordings.  Supreme has recorded over 200 songs in two years under his Toronto, Canada based label Spreez Music Group.   Label founder and manager Spreez stated in an interview he felt that most of the songs Supreme has recorded under the label are worthy of a classic album.  He however is carefully picking the final list for his much-anticipated debut album SOLID & SIMPLE: THE ALBUM due out in 2013.  Supreme's debut EP SOLID & SIMPLE: THE EP is however already available on 164 major music websites.
Ever connected to his fan base, Supreme will also invite his community of fans to get involved with exploring song concepts, visuals and other aspects of his album creation process.   "The recording of the album is well under way, it's sounding amazing!  I've been in the studio with different producers quite a lot recently. The Solid & Simple: The EP creation process has done so many amazing things; I want to make sure the album is even twice as good."
Beyond working on the Solid & Simple series, Supreme is looking to collaborate on projects with as many top artists from as many different genres and countries as possible.  Supreme is definitely the artist to keep an eye out for internationally.  Follow him @ http://www.twitter.com/dasupremeteam and http://www.twitter.com/legitsupreme
 End quote:
"My ability to crack the markets in America, Africa, and Europe and beyond, especially with dancehall, should not be understated.   Not many Canadian-based artists have been able to do It." – Supreme
Share your views/ comment on this Artiste!
Do you have a great story about him/her? Share it!
Return home from reggae singer Supreme page

Stories You Might Have Missed

| | | |
| --- | --- | --- |
| | VYBZ KARTEL TRIAL: Prosecutor's key witness says he was given a gun to hide | Will the Queen of the Dancehall Lady Saw make it as a Gospel artiste? |
| | Female artistes left in the dust - Say it's a struggle to go mainstream after Rising Stars | |
---


SEND ALL DANCEHALL AND REGGAE MUSIC RELATED ITEMS TO INFO@DANCEHALLREGGAEWORLD.COM