Stone Love the World Immortal Sound System
Stone Love is one of the most decorative sound system in Jamaica to date.  It made its entry into the dancehall business in the early 1970's.

It has been for the past 37 years the sound system with the most dancehall patrons.
Promoters are of the view that it is the best in the business. The House of Leo was where it played mostly in the 1980's and patrons would boast about going to hear stone love's entertainment.
Owned and operated by Winston "wee-pow" Powell this has been one of his best investment.
Powell was 17 years old when he purchased a component set from a technician. He continued to purchase and add equipment until he made them into a nice little sound.
From the start he had the support of his brother Cecil Powell and Winston Rooms.
Maintaining a sound is hard work and giving the perfect name is important. Wee-pow actually went through three names before finding his true love.
Sir Coxone, Pisces and Stone in love were actually the names he choose before find deciding to go with the current name.
This was mostly an uptown sound and was not introduce to the down town community also known as "Ghetto" until 1983.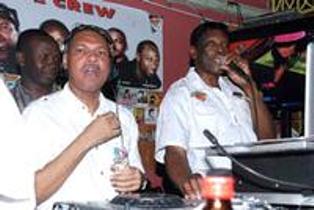 This sound plays all genres of music and if you should attend any of its session, you are sure in for a treat.
Love is one of the most sought after sound system locally and internationally, Bookings sometimes are done up to 9 months in advance. " Quiet a demand".
An Anniversary dance is held every December. The sound was formerly sponsored by Guinness but now its under the sponsorship of Magnum. Selectors/DJ's are Wee-pow, G-Fuss, Billy Slaughter, Rory, Nico, Bill Cosby, Jet Lee, Duane Pow, Richie Feelings and Diamond. ItsHeadquarters is located at 41 Burlington Avenue Kingston.
Every week there are two parties held at the headquarter "Weddy Weddy" and "Uptown Monday" which attract a large turnout of dancehall fans.

We value your feedback
Share your views, comments, or your take on this? Share it!
What Other Visitors Have Said
Click below to see contributions from other visitors to this page...

Feature on Other Sound System
Return Home from Stone love's page
Custom Search