Road Elf warns women about safety in the dancehall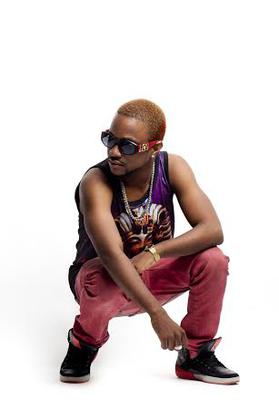 After Recent reports linking the alleged death of a female patron in a dance in Jamaica to his music, Dancehall artiste Road Elf (formerly Terro 3000) has come out warning women to refrain from some dance moves once they aren't experts at them.


Reports indicated the named female patron was dancing to the 'Head Top 'Single by Road Elf featuring RDX when she slipped and landed on her neck.
A photo of this female's motionless body on the ground had also been circulating via most social media sites, including Facebook. The death of the patron later turned out to be a rumor as the female is very much alive and back to her antics in the Dancehall.
The correlation between dance moves in the dancehall and injury or death of patrons is not new however. Previously dance moves such as 'Dutty Wine' and 'Drop Dead' have been blamed for deaths or serious injuries of female patrons. With the increasing popularity of the 'Head Top' Dance and song, Road Elf is concerned that some females are not taking the risks seriously enough.
"Everyone wants to have fun in the dancehall and the artistes love when the women are excited when dancing to their songs, at the same time we want our women to be careful and safe. Not everyone can handle every dance move and dancing on your head top is a little bit more challenging, so ladies please head top responsibly,' said Road Elf.
The Head Top Single for Road Elf, produced by Black Sheep of Apartment 19 Music, is not the only single recently released that display females dancing on their heads, Dancehall Duo Voicemail recently released the Video for the single' Balance' produced by Frankie Music that also predominantly shows women 'balancing' on their heads. The head top trend is therefor far from over, discretion and care is the prevailing thought.
"Jamaica should have their own gymnastics team, we have some very flexible and talented ladies in the dancehall. Dancing on your head top isn't going to stop and it shouldn't, ladies just be careful!" Craig Jackson from Voicemail added
Road Elf recently released the video for singles Head Top and Tribal Touch and is currently working on the video for his summer single 'Impy Skimpy'. Follow Road Elf on Twitter @RoadElf_music and like his Fan Page on Facebook facebook.com/RoadElfmusic.
Are you working on a small budget?. Would like to get your music out to the world?,Why not let us do your write-up, press releases and Reviews at a small cost. 
For a small cost we will do that for you and post them to our site. Why not contact us now? link us at info@dancehallreggaeworld.com with all your questions.

Here Here to see proof of a review that we have done.
Subscribe to our Eblast and get the latest Dancehall, Reggae News and Releases sent directly to you.
---
Subscribe to My Dancehall and Reggae Blog (no e-mail necessary), right-click on the orange RSS button (see bottom buttons to the left) and then paste the URL into your RSS reader. Or click on the Google, My Yahoo! My MSN button or Bloglnes button.

To have your projects featured on dancehallreggaeworld.com, Please email us at [info@dancehallreggaeworld.com]

Articles You Might Have Missed ......