Producer Teetimus might sue Mr Vegas for 'Bruck It Dung' royalties
by DRW
(Jamaica)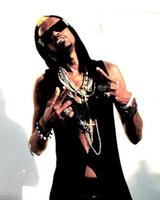 Teetimus
With his private life made very public recently, Mr Vegas is again in the news as producer Teetimus says he plans to take legal action against the artiste for failing to give him his royalties for producing 'Bruck It Dung'.

According to Teetimus, he was contacted by Q45 to build a rhythm for the song. He claims Vegas visited him at the studio, they vibed together and he built the rhythm that Vegas said he wanted.

"Mi did just ketch a vibe and do it. Mi neva sign no contract and mi wrong. Wi did just a work the tune but him just tek everything fi himself," he told THE WEEKEND STAR, noting that he has tried to get in contact with Vegas numerous times.

"Jamaicans nuh really know bout the publishing thing, but a so people eat dem food. Him not contacting me so mi ago tek legal action to him."

Teetimus says Vegas' argument is that he was a hired musician. However, he believes he still has rights to earnings made from the song.

"The tune get a lot of publicity and mi respect him fi that, but you can't selfish so. Him call mi name inna di song. The song nah mek no whole heap a money but if a $20 it get, give mi sup'm. Vegas too selfish man, him too mean," he said.

But Vegas is singing a completely different song, as he says
Teetimus got 50 per cent of the publishing. The artiste says this is more than Teetimus should be entitled to, as the original beat for the song was made by Suku from Ward 21, who also wrote the song. He said he only turned to Teetimus because he wanted to change parts of the beat and Suku was not in the island.
"He got almost $100,000 to play a phrase (for Party Tun Up), build a beat and he's getting 50 per cent of the publishing for a song that was already composed," he told THE WEEKEND STAR.
Vegas says Teetimus is paying attention to the 14,000 copies sold on iTunes for 99 cents each.
However, " he does not own the master, he did not build the original beat. He is going to get mechanical royalties based on every copy that is sold," he said.
He continued: "He is a fortunate man to have somebody work the record and he gets something every time the song is played."
Contrary to the numerous times that Teetimus claimed he tried to get in contact with Vegas, the singer says, "he has never called my phone. He is being greedy and I guess he wants 100 per cent."
Meanwhile, Vegas performed at the World Creole Music Festival yesterday. He also has two shows lined up in New York, before heading to Europe for three weeks.
source: Jamaica-star.com
READ MORE ABOUT MR VEGAS