---
Mutabaruka Reggae Music
Mutabaruka Reggae music history and life. He was born on 26th of December 1952 in Rae Town Kingston Jamaica. He grew up as a Catholic but later change to the Rastafarian Religion.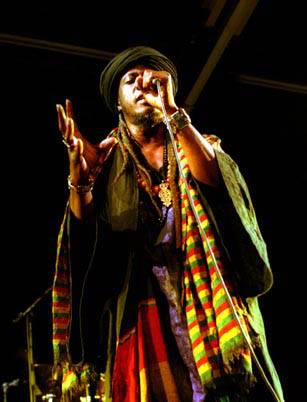 Muta describe Rasta as "Part of a universal quest which may also be perused by other routes such as Hinduism or Buddhism or Christianity.
He burst onto the reggae scene in 1981 with his monster hit "Every time A Ear De Soun" which was released on the High Times Label. This Led to him being booked for the world renown Reggae Sunsplash that same year.
Mutabaruka Lyrical and Musical vibes is Strong, Fiery and always Relevant. In Jamaica he's known as the Rasta Man who don't wear shoes.
Known for his sometimes very controversial speeches, songs and Dub Poetry ,he is very well loved and adored throughout the reggae and dancehall music community.
Since the released of this first ELP IN 1983, he has since released more than eleven (11) other album/compilations.
"Life Squared" was released in 2002 on the Heartbeat Label and was very well received by reggae fans.
Muta as he is also called is the host of "Cutting Edge" a Social Commentary/Music program on Irie FM , Jamaica's all reggae Music Station. This program is aired every Wednesday from 8-11 PM.
Mutabaruka's love for Africa and Ghana has led him to Africa's recording Label "Gallo Records. The combination has since seen the release of "Life and Lesson" his Thirteenth (13) album.
He is truly a Reggae Ambassador for Jamaica.
Clink on the links below to purchase his music
Share your views/ comment on this Artiste!
Do you have a great story about him/her? Share it!
Go to Reggae Dub Poetry from Mutabaruka Reggae Music Page
Return Home from Muta's Page
Custom Search
---
Lyrics ~ Videos ~ News ~ Whats New ~ Articles ~ Booking ~ Frontpage
WHAT'S YOUR FAVORITE DANCEHALL/REGGAE MUSIC SONGS, ALBUMS AND ARTISTES (MALE/FEMALE) FOR 2015.  We would surely love to get your feeback .. CLICK HERE TO SUBMIT YOUR RESPONSE.