Hosny Good Morning Babylones - France reggae band
by HGMB
(France)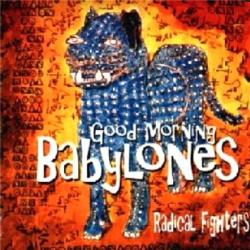 The Good Morning babylones
Hosny Good Morning Babylones is one of France's upcoming reggae band.


The band leader is singer and composer HOSNY. His first album, "Radical Fighters", launched the Reggae movement in France, and was on the top of the charts in France and in England.
He recorded his second album "Unité Universelle" and his third album "Rasta Rebel" between Kingston, Jamaica and Paris with the Wailers, Bob Marley's musicians.
The 4th album of Hosny is now ready You can see all informations, video clips, 3 MP3 songs of the 4th Album, lots of MP3 of the others Albums, pictures
HERE
Its time to start paying attention to our French neighbours it seems. Former Wailers' organ player Tyrone Downie already has, and he's but one of a number of quality musicians on show here. Keyboardist Ras Tea has played with Jimmy Cliff and bassist Junior MclcLear with Aswad, whilst singers Kali, Kate, Levy and Akiba backed The Wailers on their '97 tour.
Not unexpectedly The Good Morning babylones are a live band, complemented by a full horn section and led by singer/songwriter Hosny, whose urgent Marley-like remonstrations we'll assume deal with a mixture of roots and political themes.
As they're sung in French, I can't understand a word! Music like this shares similar aspirations to that of past British roots bands like Aswad, Steel Pulse and Black Roots. They too were heavily influenced by Marley and sought to make roots rock reggae for an international audience, relying on skanking, precise musicianship and Rasta polemics to carry them through.
Hearing Europeans tread the same path 15 years later betrays a startling lack of imagination, but I suppose alter being subjected to umpteen tours by fading yard legends, their options were rather limited.
MORE INFO ON REGGAE AND DANCEHALL IN FRANCE