Fanton Mojah dancehall and reggae music singer
Custom Search
Fanton Mojah was born on August 5, 1975 in St Elizabeth, Jamaica.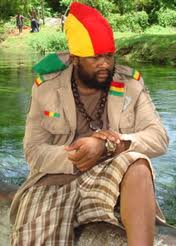 The young Owen Moncrieffe was always motivated by music and, at the age of nine years, began performing at local concerts winning several talent competitions while still at school. His parents soon grew to understand that Owen's sole aim in life was to be a deejay and in order to further his musical ambitions he moved to Kingston.
He found work there as a handyman with top Sound System Kilamanjaro gaining experience and gradually building up a reputation as he sang and deejayed over rhythms during sound checks. Initially he called himself Mad Killer (after dancehall deejay Bounty Killer) but he was drawn more and more towards a strictly conscious approach to music.
In 1997 he came under the influence of cultural deejay Capleton who encouraged the youth to become known by a more spiritual name and so he became Fantan Mojah in order to clearly define his Rastafarian beliefs and to underline the serious content of the music that he felt compelled to make.
Fantan began recording with the Black & White team of Andrew 'Prento' Prendergast and Joseph Bogdanovich of Down Sound Records in 2004 and their first seven-inch release "Hungry" shot to the number one position in the Jamaican charts where it stayed for eight straight weeks. The anthemic "Hail The King" followed it to number one and has become one of the most talked about, and listened to, records of 2005.
In 2008 he released his second studio album "Stronger", the 16 tracks album was well received by lovers of his music world wide.
Some of the top tracks from this album are:
1. Stronger
2. Jah Time
3. Most High Jah
4. Stay Positive.
In 2011 he tour Africa, there he performed at the Lion Lager Festival in Zimbabwe, his music was very well received.
Fantan Mojah is notable for being one of the new wave of contemporary reggae singers who prefer to include positive themes in their lyrics. Like some popular new reggae singers, he is a Bobo Ashanti.(Rastafarian).

Post Your comments/ views about this artiste below..
Post your views/comments on this artiste below also read what others have said about him/her.
Below you will see the contributions from other visitors like you.
Click below to see contributions from other visitors to this page...

Return home from Reggae Fanton Mojah page
Articles You Might Have Missed ......
Dancehall and Reggae Music Articles
Dancehall Reggae World's Favorites
Custom Search