Reggae Recording artiste Dax Lion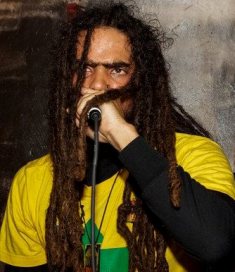 Dax Lion is a young, gifted and black rising star, born and bred on the island of Jamaica. The small Caribbean island is known for producing some of the most talented musicians in the world.
Well, 23 year old Dax Lion is on a path to ensure his name and music will one day top the charts.
At the tender age of 16, Dax was discovered by Kimani Robinson, former owner of RETV (Reggae Entertainment Television). Robinson was moved by the young Dax who had the signs of stardom and introduced the rising Lion to some well known producers.
Dax was resolved to pay his dues and go the route of so many talented youth, namely sitting outside studios in Kingston while waiting on his turn to display his musical skills.
Several years and a few producers later; the encouragement of major music movers and shakers such as Mario C of 357 Records, best known for his work with Beenie Man, Jah Vinci and Versatile; Dax got a break. Versatile invited the bubbly brown eyed youth on stage for a big show in Jamaica in 2007 featuring acts such as Beenie Man, Aidonia amongst others. Dax took the mic and beat back the apprehension to win over the not so easy Jamaican audience.
A star was not just born but now found a galaxy in which he could shine. Fully embarked on his life in music and working with some of the best musicians and producers such as T'jean Bennett, son of well known Reggae Producer Mikie Bennett and Makonnen Blake Hannah, Dax has been working hard. His style is mellow yet inspirational and his potent lyrics reflect his musical inspiration from artists such as Michael Jackson, Bob Marley and the Marley family, Peter Tosh and Stevie Wonder to name a few.
Embracing Rastafari he expresses the social concerns of the youth today in a solid bass driven reggae groove. As we join him on his musical soul journey, we are forced to move to the dynamic arrangements well executed by his backing band, and be mesmerized by his stage performance, which always ends in a crowd call for an encore as his stage presence is refreshing and electric.
The debut song, Gwan Natty, reveals the great potential and power of Dax's chops and has been stacking up rave reviews. The song is infectious and proves to be an anthem of encouragement for youths in today's society. His debut has been followed by astounding tracks that have resonated among his growing audience.
Last Child, Gwan Natty and Reggae Jam Jam proves to be among the favourites and his music is receiving a notable amount of airplay both locally and internationally.
As Dax Lion garners momentum he invites his audience to grow and flow with him. He expresses true humility and gratitude for being able to perform on numerous high profile shows such as Conversations with Julian Marley and Richie Spice, Manifesto JA's ART'ical Exposure, Rasta Vibes at the Bob Marley Museum, and several others in the recently revived live music circuit locally.
This summer he was invited to do the Bob Marley Peoples Festival in Wilmington, Delaware, where the response of this huge foreign audience was overwhelming. No stranger to the international scene, Dax has performed in New York, Atlantic City, New Jersey, Philadelphia and Miami to name a few places. Collaborations with other rising stars such as Biggz General show his versatility and ability to work with all genres and hybrids of reggae from Dancehall to R&B and more.
Dax has evolved from a shy cub into a roaring lion, committed to delivering a musical sound that is sure to get the attention of fans and the music industry. Truly a refreshing change that gives hope to the resurgence of conscious reggae...Gwan Natty Gwan!
Contact Info
Website: http://www.daxlion.com
Press Contact: daxlionmanagement@gmail.com
Booking Agent: daxlionmanagement@gmail.com
Share your views/ comment on this Artiste!
Do you have a great story about him/her? Share it!
What Other Visitors Have Said about this artiste..see below
Click below to see contributions from other visitors to this page about this artiste...

Return home from Reggae artiste Dax Lion page

---
NEW DANCEHALL & REGGAE VIDEOS
---
Custom Search