Reggae Singer Codi Jordan Moving UP
Custom Search
Codi Jordan has left Eden to live in Salt Lake City. Weber County town Eden is biblically beautiful, but Jordan, 30, is on to bigger things and places with his new album, "A Little More Less," his third.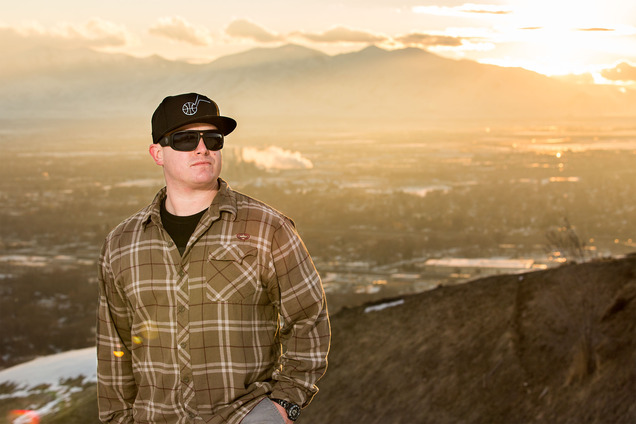 Jordan, a graduate of Weber High School and the University of Utah with a bachelor's degree in urban planning, has been one of the hardest-working musicians in Utah over the past decade. Along with bassist Cameron Goldsberry and drummer Jonny Knoder, the Codi Jordan Band is never not on tour with their unique brand of reggae-rock that doesn't have the beach as its inspiration, but rather the mountains.
"Our genre has technically been placed into reggae-rock, which is centered around a beach and surf lifestyle," said Jordan. "So when people see these images from the mountains [on promotional materials] that they are not used to, they begin to ask questions."
Jordan himself was asked questions by The Tribune about his upbringing, his signature sound, and what his idea of a perfect day is. Although he didn't mention reading a print edition of The Tribune during that perfect day, we forgive me, since he makes laid-back, feel-good music.
What musical training have you had?
I began playing the guitar and writing around age 12. While I was mostly self taught by ear, I took some lessons from my mom, and then I had two or three guitar instructors at Music Village in Ogden, and had my first performances with my church band. I have been lucky enough to work with a ton of great musicians on my journey and believe I've picked up bits and pieces from those artists, as well as created my own style and sound. I am lucky to have Jonny Knoder in my band.
He is one of the all-around greatest musicians I have had the pleasure of calling a band mate. He can play multiple instruments proficiently and is an all-around creative and driving musical force behind the sound of the band. The same goes for Cameron Goldsberry. His skills on the bass guitar can stand up to some of the best in the industry. Cameron's total understanding and mastery of his instrument is inspiring. I feel very lucky to have two of the best musicians in the state on my team.
What inspires you?
The fans inspire me. It is amazing to meet people who take your art and make it their own and really believe in what you are doing. That is the best. Also, life inspires me. The good parts, the bad parts, the beautiful parts, the ugly parts, the happy parts and the sad parts. They all come together to make this thing called life inspirational.
What is the most musical thing in the world?
When the band is playing in front of a crowd filled with hundreds or thousands of people and suddenly the band deviates from the written structure of the set song to improv into pure intense musical emotion. As a band we begin to feed off an engaged crowd. We start to break the song down to the bare bones, bass drums, and hand claps. Guitars begin to build, the crowd starts to feel the momentum. Sound levels go up, guitar licks progressively start getting exciting and louder, the crowd rises to a fever pitch by jumping up and down in anticipation for a musical climax — Wait for it, wait for it, wait for it — Boom! The full band is back with twice the intensity and no person in the room can help but start dancing, singing and clearing their mind of all of life's problems for a single moment of music intensity created by three people with instruments. That's the most musical thing in the world.
Does being a Utah-based musician help or hinder a music career?
On one hand the music business is all about numbers. California has numbers, Texas has numbers, New York has numbers. Here in Utah we have around 3 million people in the whole state. Which means we have 3 million sets of ears in our state. Of those sets of ears only a certain amount are going to even be seeking new music, and an even smaller percentage of that group will be seeking music by local bands. Now of that group, an even smaller number of people looking for local music in Salt Lake City are going to identify with your sound, your story and become a fan. So, gaining a large following can be tedious.
On the other hand, being from Utah and we get to tour through the major market cities representing our local sponsors Aztech Highway, Ogden's Own Herbal Liqour, RAMP Skis and Snowboards, The Sonora Grill in Ogden, and Bula Beverage. People see the band pics of us standing in front of the Wasatch mountains covered in snow. Their thoughts are. "These dudes are from Utah and they actually seem like the have some cool stuff going on." Our genre has technically been placed into reggae-rock, which is centered around a beach and surf lifestyle. So when people see these images from the mountains that they are not used to, they begin to ask questions. We've heard the craziest questions on tour about being from Utah. The most popular question is, "Are you LDS? Can you buy whiskey or beer in Utah?" Usually, once they figure out Utah is like anywhere else and they hear a live set and pick up a new CD, they become loyal fans. Long story short, sometimes it's not only the music that sells people on the idea of the band, but the idea of living a laid-back reggae-rock lifestyle deep in the heart of the mountains. So that helps.
How did you get involved with local producer, audio engineer and musician Matt Winegar, who has mixed and produced your music?
I have been running into Taylor [Richards] and Neal [Middleton] of Royal Bliss in Salt Lake City on and off for the last 10 years. I highly respect what they have been able to accomplish as a band from Salt Lake City. So I am always around, bugging them, trying to catch some tips and tricks to take my band to the next level. Through Bliss I was introduced to Matt Winegar, who mixed our second record "Positivity."
When it came time to produce the third record, I was feeling like I needed to do something totally different. I approached three of my favorite producers in Salt Lake City. We recorded some scratch tracks and just tried to catch the vibe between us. Matt and I hit it off right of the bat. There was a mutual respect there immediately because he respected what I brought to the table and I respected him the same way. So we just looked at each other and said, let's make this CD the best freaking record we can possibly make together. And off we went to work.
What does your recorded music say about you, and your aspirations and goals?
With this record I wanted to be totally honest with myself and with my fans about who I am, what I do and how I do it. I feel like I have grown up a lot in the last year or so, but I also don't want to lose the youthful parts of my life that define my brand. It's too easy to get sucked into the grind of everyday life and forget to have some fun. My goal is to project to people the image of someone who gets stuff done but also prioritizes having fun in life with family and friends. Basically I have always wanted to create an image or a feeling of relaxation, love, and positivity.
Describe a perfect day.
Wake up late after an awesome gig playing for 10,000 rabid fans singing every word to every song at the top of their lungs. Flip on the radio and hear one of my songs, which is getting a ton of airplay. Put on a pot of coffee and make some toast. Bundle up and head to Powder Mountain to take some turns in the sun and just enjoy nature, and breathe some crisp winter air. Stop in the Powder Keg for some chili fries and a couple of Amber Ales before we head back down the mountain.
On the drive home, I get a call from my agent letting me know one of the songs we are shopping in Nashville has been picked up and that I am going to have to jump on plane in the morning with my guitar to do some consulting in a Nashville studio. I'll get home and pop a nice bottle of red with my fiancéé. We'll cook a giant steak with asparagus and mashed potatoes. They'll be no need for dessert, because I am stuffed. Watch the news, close my eyes and start meditating on how to capitalize on the next set of opportunities I have been given.
Describe the process in how a song comes about, and how the album came together.
The Codi Jordan band put out the album "Positivity" in November, 2010. We were traveling all over the West, usually two to three weeks a month on tour. Awesome fun, but very stressful work. Living day-to-day and check-to-check in a van can be very nerve-racking. We were so lucky to be able to see so many cool places and meet so many amazing people that we never would have without the band.
If you ever catch us just chilling in a bar, buy us a drink and we can entertain you for hours with hilarious, unbelievable stories from our adventures on the road. While all this was happening I was writing songs on the road or about the road when I was home. The band wanted to write a new record too, but with just getting off of the road for two years, each member of the band needed a little space. I had written all of these great songs while we where on the road.
I started recording them as demos just so I wouldn't forget them and lose the song forever. We put out a [fund-raising] Indiegogo account to gauge interest in a new solo album, and received half the funding asked for in the first two days. Obviously, the desire was there, so when I went into Winegar's studio he heard the story and loved the songs and we got to work.
Post Your comments/ views about this artiste below..
Post your views/comments on this artiste below also read what others have said about him/her.
Return home from Codi Jordan page

Articles You Might Have Missed ......
Dancehall and Reggae Music Articles
Dancehall Reggae World's Favorites
Custom Search