Bryan Art's Fresh Start EP is in stores now!!!!!
by Lennybop
(Washington DC)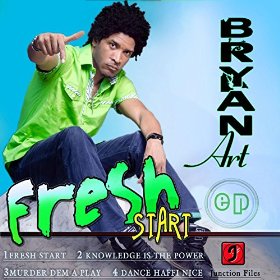 Reggae Artist & Musician Bryan Art's EP titled "Fresh Start",is finally available for purchase from iTunes, amazon etc.


Fresh Start comprises four brilliant tracks two of which were previously released as singles. However, over the last few months the EP was only being presented to media personnel for promotional purposes only.
Track 1."Fresh Start" the title track & Track number 2. "Knowledge Is The Power", both released on Junction Files Label late 2013.
Track 4, "Dance Haffi Nice" was released on the Overdue Riddim compilation album by Machete Records. Track number 3 is a remix of Bryan Art's 2009 hit single "Murder Dem A Play" only this time the song has been re-dubbed "Murder Dem A Play 3Mix" and it features Sizzla & Queen Ifrica
This EP is short and sweet and Bryan Art has a new vision and purpose as he correlates his New EP with his new attitude towards the music industry.
iTunes Link https://itunes.apple.com/us/album/fresh-start-e.p-ep/id891812838
SoundCloud Link https://soundcloud.com/bryan-art/sets/fresh-start-e-p