Andrew Tosh release new single "What A Gwaan"
Custom Search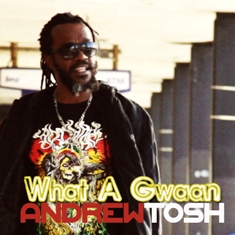 Hot on the heels after the critically acclaimed release of "LEGACY an Acoustic Tribute to Peter Tosh", nominated for the 2011 Grammys, Andrew Tosh has launched a new single from his new album "Eye to Eye" entitled 'What A Gwaan'.
Bringing a fresh take on a all too familiar subject, the sufferation of people worldwide, Andrew has really simply but effectively once again brought the severity of this issue to light.
Poignant lyrics ably delivered consistently over a steady reggae rhythm completed with a strong bass line and distinctive horn section are the highlights of this track.
Visualizing the reality painted by Andrew initially in the song would be depressing for all listeners if it wasn't for the belief that things could be better once people try to relate to one another in overall healthier manner, this thought is expressed later in the song in the line"One by one we need to come together learn to love and respect each other".
[Listen Here]
"What A Gwaan" is a choice selection that really takes a current relevant topic and explores it thoroughly even offering some semblance of solution, albeit a quite simple one, to the problems listed within the song. If this is just a taste of what "Eye to Eye" has to offer, then music fans all over will soon be clamoring to know 'What A Gwaan' in the world of Andrew Tosh.
To add, the album is set to be released October 23 a few days after his father's birthday, who recently received the Order of Merit in Jamaica and is now the Honorable Peter Tosh. 2012 is a significant year for Tosh as it is 25 years since the death of his father.
Share your views/ comment on this Artiste!
Do you have a great story about him/her? Share it!
Return home from Andrew Tosh page

Subscribe to our Eblast and get the latest Dancehall, Reggae News and Releases sent directly to you.
To have your projects featured on dancehallreggaeworld.com, Please email us at [info@dancehallreggaeworld.com]

Articles You Might Have Missed ......
Custom Search